Unconstitutional origins of the Endangered Species Act, Times Digest July-Aug 2001
The Many Facets of The Endangered Species Act, by Julie Smithson, posted to KBC 9/7/05. This well-researched document details getting species listed, methods used, United Nations ESA mandate, examples, species recovery success rate, etc.
A must-read for the objective student of environmental science.
Emails about the book The Great Salmon Hoax by James Buchal have been circulating in the midst of Klamath dam destruction schemes. Dams, mismanagement, Endangered Species Act, ..."This book is written to begin debunking these myths and provide a comprehensive summary of the best available scientific evidence on the prospects for salmon recovery. It also tells the many stories of how these myths arose, who is promoting them, and how the promoters have overcome both science and law. Myth #1: Columbia Basin Salmon Are in Danger of Extinction."
The Endangered Species Act Fundamental Flaws, by Senator Doug Whitsett 12/12/11. "...
These provisions have allowed the intent, implementation and outcomes of the Act to be hijacked to serve the greed and exploitation of preservationist factions both inside and outside of government agencies...In spite of the expenditure of billions of tax dollars, the species recovery rate is less than 1.5 percent."
DeFazio wolf comments uncalled for, H&N by Capital Press 12/7/18. "...Rep. Peter DeFazio, a Democrat who represents Oregon's 4th District, in defense of keeping federal protections on wolves. He called the bill "a talking point for a few idiots..."
House wolf debate features OR-7, WSU, 'idiots," Capital Press 11/20/18
Delisting of Wolves passes the house, 11/16/18: H.R. 6784: Manage our Wolves Act: To provide for removal of the gray wolf in the contiguous 48 States from the List of Endangered and Threatened Wildlife published under the Endangered Species Act of 1973. H.R. 6784: Manage our Wolves Act Passed 196/180 Rep. LaMalfa [R-CA1]: Aye Trackers: Rep. Doug LaMalfa [R-CA1
Saving the sucker species, Summit with Senator Merkley, H&N 11/18/18. "There are about 50,000 Lost River sucker left in Upper Klamath Lake..."
Record number of suckers recovered. Biologists find 732 juvenile suckers near A Canal screen, H&N 12/18/15. "...biologists with the Bureau of Reclamation (BOR) found the largest number of juvenile Lost River and shortnose suckers since fish salvage operations began in the Klamath Project in the late 1990s."
Lower Klamath Refuge construction an effort to save salmon (on the Columbia River). Habitat restoration aimed at dispersing (baby-fish-eating) Caspian Tern populations, H&N 2/14/18. "...According to Beckstrand, the Caspian tern population along the Columbia River has been responsible for around 15 million to 20 million salmon smolts being eaten annually. The cormorant population growing on East Sand Island is estimated to be responsible for an additional 11 million young salmon each year..."
More articles on imported fish-eating Caspian Terns HERE
Suckers thrived in warm water with low lake levels, H&N KBC 11/11/18
Klamath Tribes drop ESA lawsuit against BOR. Merkley to hold PRIVATE Sucker Recovery Summit November 16 in Klamath Falls, H&N 11/9/18.
Science behind listing of endangered fish should be public, by Christine Hankins, Bonanza, letter to H&N 7/3/18. "...has anyone ever wondered how the "endangered" short-nosed sucker existed for millennia before the local dams ... made it possible to keep lake and river levels so high?"
Environmental, fishing groups sue Oregon over coho salmon, Statesman Journal 6/13/18. "...Poor logging practices by the Oregon Department of Forestry is causing real harm to the Oregon coast coho and commercial fishing families who depend on these magnificent fish for their livelihoods," Glen Spain (PCFFA/IFR attorney) said, the northwest regional director for the Pacific Coast Federation of Fishermen's Associations and the Institute of Fisheries Resources, both plaintiffs in the case..."
"Rather than seek out yet another unrelated non-profit to funnel the money through, PCFFA created a new organization..." IFR / Institute for Fisheries Resources. KBC NOTE: That link directs you to PCFFA/IFR page detailing their many Earthjustice (partially funded by George Soros) lawsuits against Klamath Irrigators in the takings case, power rate case, shutting down suction dredge mining, Klamath River water quality TMDL's, essentially against timber harvest, farming, mining and river dams.
Funds ($1M) set aside for endangered species study, H&N 5/8/18
ORDER DENYING MOTION FOR RELIEF FROM THE JUDGMENT AND CLARIFYING INJUNCTION ORDERS April 30, 2018.
"...Interveners' argument mainly rests on the effects of the Klamath River Project on the family farms and ranches in the Project's irrigation districts...I am not free to favor economic or other interests over potential harm to endangered species..."
"...the injunctions prioritizes first and foremost the wellbeing of the endangered species (both the Coho salmon and the sucker fish to the extent that they are affected), then the federally-protected rights of the tribes, and finally the rights of the irrigation districts. Federal defendants have not shown that so-called partial implementation cannot meet the objectives of the injunctions, nor that even some lesser amount of Reserve Water would provide no benefits...."
"...Because the injunctions demand partial compliance in the event that full compliance is not possible, federal defendants' proposal of releasing water to the Project is clearly inconsistent with their duties. Under the injunctions, they are not permitted to release any water to the irrigation districts that could be instead used to implement Measure 4, even if only partially..."
Irrigators may get their water as judge mulls altering injunction, H&N 4/20/18.
Sucker fish success requires cooperation, H&N by Tracy Liskey 4/3/18. "In the past all we have done is keep the water levels higher and the fish population has done nothing but continue to decrease and the basin economy decrease because of water restrictions..." KBC NOTE: It's been stated at meetings for more than 15 years that the fish die-offs happen when water managers mandate historically high lake levels for the fish. The Klamath Science Workshop Feb. 3, 2004: Dr William Lewis Jr of the National Resources Committee "explained that the suckers were listed since 1988 because of over harvest. They stopped fishing in '87 but they did not recover. The lake has gone from 3' range under natural conditions to experiencing 6' deep in current dry years. With charts and graphs he showed the habitat and water quality, algae and chlorophyll. He said that the committee looked extensively at water levels, and they find 'no hint of a relationship'. He also said that there was no relationship between lower water levels and extreme ph levels. And "the committee cannot support the idea that water levels effect algae growth.' "It can not be achieved by lake levels." '92 was the lowest water year, and they expected it to be the least favorable for fish. 'The lowest water year produced the same amount of larvae as other years. He said that fish kill information does not support that fish are dying by changing water level. 'We need to look at other locations.' "
Species battle pits protected sea lions against fragile fish, H&N 3/23/18. " the mammals' numbers dropped dramatically but have rebounded from 30,000 in the late 1960s to about 300,000 today due to the 1972 Marine Mammal Protection Act...Last winter, a record-low 512 wild winter steelhead completed the journey, said Shaun Clements, the state wildlife agency's senior policy adviser. Less than 30 years ago, that number was more than 15,000...Of all the adults that are returning to the falls here, a quarter of them are getting eaten."
Groups seek protection for unique Oregon salamander, The Oregonian 3/13/18.
Study blames pot farms for poisoning of threatened owls, H&N 1/12/18. "...Researchers from the University of California, Davis, and the California Academy of Sciences tested 10 northern spotted owls found dead in the region. Seven of the owls tested positive for rat poison, used by pot farmers to keep rodents away from their irrigation systems and crops..."
Spotted owl controversy renews over logging plan, KCBY News 6/12/07. "The Bush administration Tuesday proposed cutting 1.5 million acres from Northwest forests considered critical to the survival of the northern spotted owl, reopening the 1990s battle between timber production and wildlife habitat on public lands..."
Court OKs killing a type of owl to see effect on other owls, ABC News, posted to KBC 1/14/18
$3.5 million to hunt the barred owl that killed the spotted owl, H&N 1/24/14
Environmentalists sue for more rules to protect sage grouse, H&N 2/26/16.
Birds play role in sucker numbers, H&N 1/29/16. " 'Predation rates on suckers at Clear Lake were highest by birds nesting at the lake...The predation on suckers in 2014 and 2015 pretty much came from whatever got to nest on Last Chance Island,' Hewitt said." KBC NOTE: Historically Clear Lake was a meadow. When The Klamath Reclamation Project was built, it stored some water in that meadow and was named Clear Lake. The federal government took the reservoir and named it a bird refuge, nurturing pelicans and cornerants, keeping out people, and mandating certain amounts of "endangered" suckers that never before lived in that meadow. Now the cormorants and pelicans are eating the suckers, keeping them endangered in that former meadow."
*Thousands of fish-eating Cormorants eating baby suckers? by Oregon Senator Doug Whitsett 6/13/13 Newsletter: "What is NOT commonly known is that the second largest nesting colony of Double Crested Cormorants in the Western United States and Canada is located on Upper Klamath Lake. There may be as many as six thousand breeding pairs of these birds reproducing in the Upper Klamath Basin...When will the biologists look to see if the immense population of Double Crested Cormorants living in the Upper Klamath Basin may be simply eating the young endangered suckers?"
Reclamation Announces Increased Numbers of Lost River and Shortnose Sucker Fish in the Klamath Project, BOR 12/17/15. "Bureau of Reclamation biologists found the largest number of juvenile Lost River and shortnose sucker fish since fish salvage operations began on the Klamath Project...the late 1990s"
Swimming upstream: Biologists monitor endangered suckers, H&N 11/27/15. "...scientists have tagged roughly 30,000 Lost River and shortnose suckers."
Judge clears barred owl removal study, Capital Press July 21, 2015. "Populations of the northern spotted owl, which is protected under the Endangered Species Act, have continued to decline in recent decades despite strict limits on logging...U.S. Fish and Wildlife Service authorized an experiment to remove 3,600 barred owls over four years, typically by shooting them, to see if spotted owl recovery improves...the barred owl has consistently invaded the spotted owl's territory since the 1970s...the removal study costs $1 million a year"
(Klamath) Project irrigators could get new fed status. 'Applicant status' may allow for more input in ESA development, H&N 7/18/15. "The amendment was proposed by by U.S. Reps. Greg Walden, ROre., and Doug LaMalfa, R-Calif., to help protect Klamath Project water users in Oregon and California...the amendment gives Project water users "applicant status," ensuring they are included in Endangered Species Act (ESA) consultations that affect Project water operations."
Tracking suckers in drought proves to be a tricky task. Spawning data hard to come by in low water, H&N 5/21/15. "75 Clear Lake suckers received telemetry tags, more than 10,000 have been fitted with another type of tag..." KBC NOTE: Clear Lake was historically a meadow. When Reclamation rerouted water to create farmland, they put water in the meadow to evaporate. Our government has made it into a bird refuge with a mandate of how many suckers must exist, thus restricting stored water use for farms.
*Hundreds of cormorants shot to protect Columbia salmon, H&N 5/29/15
*Oregon Senator Doug Whitsett 6/13/13 Newsletter: Thousands of fish-eating Cormorants eating baby suckers? "What is NOT commonly known is that the second largest nesting colony of Double Crested Cormorants in the Western United States and Canada is located on Upper Klamath Lake. There may be as many as six thousand breeding pairs of these birds reproducing in the Upper Klamath Basin...When will the biologists look to see if the immense population of Double Crested Cormorants living in the Upper Klamath Basin may be simply eating the young endangered suckers?"
Preservation plan unveiled for sage grouse. Proposal could affect 10 states, oil and natural gas development, H&N 5/29/15 followed by Interior proposes land controls to preserve Nevada sage grouse, Las Vegas Review Journal. "The economic impact of sage-grouse restrictions on just the oil and natural gas industry will be between 9,170 and 18,250 jobs and $2.4 billion to $4.8 billion of annual economic impact across Colorado, Montana, Utah and Wyoming,"..."Department of Interior is updating management plans covering 165 million acres — an area the size of Texas — in consideration of the sage grouse"
Washington ranchers wary of (sage) grouse agreement, Capital Press 5/5/15. "Creston, Wash., rancher Dawn Nelson says she would have to reduce her herd of more than 120 by roughly half if she were to sign up...They say it's voluntary to sign up, but if you don't sign up and you happen to have a bird die on your place or an accidental take, they can come back and sue you,' Nelson said."
$4 million for wildfire strategy -Sage Grouse Habitat , H&N, posted to KBC 5/7/15.
Feds spend $236M to help landowners protect grouse, H&N 5/1/14.
Tribes in 13 States Receive $4.2 Million From Service for Conservation Work, FWS 3/27/15. California and Southern Oregon Tribes Awarded Grants. "Tribal lands encompass millions of acres of important habitat for hundreds of wildlife species across the nation...Since its inception in 2003, the competitive Tribal Wildlife Grants program has awarded more than $68 million to Native American tribes, providing support for more than 400 conservation projects...Yurok Tribe ($176,771)...This project will support specific goals of the California Condor Recovery Plan. The Klamath Tribes ($200,000) The Re-introducing Extinct Populations of Endangered Suckers in the Upper Klamath Basin grant will assess and restore spawning habitat for endangered Lost River and shortnose suckers in Upper Klamath Lake Oregon."
Salmon habitat rules on the table, and PUBLIC COMMENT PERIOD, H&N 10/24/14. "Sen. Doug Whitsett, R-Ore., said he is concerned about restrictions being placed on the diversion canal connecting Lost River to the Klamath River. He said the diversion is at the "heart of the Klamath Project."
Biologists identify pot gardens as salmon threat, KATU 9/30/14. "The plan marks the second time that Endangered Species Act actions have pointed to marijuana as a threat. The U.S. Fish and Wildlife Service has been looking at rat poison left around illegal pot plantations in California as a factor in whether to list the Pacific fisher as a threatened species." Go HERE for numerous articles on huge pot plantations near the Klamath River, on the Hoopa Indian reservation, in our locked-up forests.
Corps seeking comment on plans to again reduce Caspian Tern nesting area on East Sand Island, Due Feb 21, 2014, CBB 1/24/14. "In 2013, at 1.58 acres of nesting habitat on East Sand Island, the number of nesting pairs was near 7,600 and predation on juvenile salmon was near 4.7 million..."In 2013, approximately 680 Caspian terns moved from East Sand Island to some of the constructed inland sites, including Summer Lake, Malheur Lake, Crump Lake, Sheepy Lake, and Tule Lake." KBC NOTE: These fish predators eat baby fish and were relocated to Tule Lake and Klamath refuges. Our baby suckers are mysteriously vanishing. 100,000 acres of irrigation water were shut off above the Klamath Project because Indians demanded it due to low juvenile sucker counts, claiming more water in the lake makes more suckers. Write comments regarding Columbia building Caspian Tern habitat, terns killed millions of juvenile salmon so they relocated them here, and plan to relocate more. http://www.nwp.usace.army.mil/Media/Announcements/tabid/1887/Article/21181/draft-ea-caspian-tern-nesting-habitat-reduction-east-sand-island.aspx
$3.5 million to hunt the barred owl that killed the spotted owl, H&N Forum 1/24/14.
Feds begin killing barred owls to help spotted owl, Daily Herald 1/20/14
Sage grouse plan seeking comments by Jan. 13, H&N 1/2/14. "The draft EIS has six possible management alternatives for maintaining and increasing habitat for greater sage grouse on BLM lands in Oregon. The BLM has about 10 million acres in Oregon that provides greater sage grouse habitat."
Feds begin barred owl kills to help spotted owl, H&N, 12/21/13. "Major cutbacks in logging in old growth forest that spotted owls prefer as habitat have not turned around their population decline, and scientists want to see if removing competition from the more aggressive barred owl will make a difference."
Officials oppose Oregon spotted frog habitat; all three commissioners voted to send an opposition letter to USFW, H&N, 12/7/13. "Klamath County commissioners are voicing their opposition to designating more than 56,000 acres in Oregon as critical habitat for the Oregon spotted frog, which the U.S. Fish and Wildlife Service is proposing to list as a threatened species...of the 53,866 acres in Oregon considered for critical habitat, 27,825 are in Klamath County and 8,823 acres in Klamath County are on private land."
Group files suit to stop barred owl shooting, H&N 10/3/13
Spotted Frog Protection; Endangered listing could have impact on Basin; some say ruling would be positive; others disagree, H&N, posted toKBC 9/1/13. "The U.S. Fish and Wildlife Service announced Wednesday a one-year period to assess whether to designate the Oregon spotted frog as threatened, and whether 68,192 acres and 23 stream miles should be listed as critical habitat throughout Washington and Oregon."
Feds to start shooting barred owls, The Westerner 7/24/13. "The U.S. Fish and Wildlife Service on Tuesday released a final environmental review of an experiment to see if killing barred owls will allow northern spotted owls to reclaim territory they've been driven out of over the past half-century."
Lack of forest logging to blame for fires, H&N letter to editor, posted to KBC 7/9/13. "I'm still waiting for just one environmentalist, one environmental group, or anyone else who played an active or sedentary role in stopping logging to save the spotted owl, to come forward and publicly protest the illegal marijuana grows in our national forests, national parks, and Native American Indian reservations, after it's been proven the pesticides used on these grows are killing spotted owls and fishers."
Lower Klamath Wildlife Refuge - Floating Islands Enhance Salmonid Recovery by Creating Alternative Nesting Habitat for Caspian Terns, US Army Corp of Engineers, US Fish and Wildlife Service, and NOAA Fisheries plan succeeded, with OSU and USGS, to bring fish predators to Klamath Basin. Floating Island International 2010, posted to KBC 6/13/13. "In February 2010, FIW and Just Buckets built and launched a 40,000sq. ft. floating island at Sheepy Lake in Lower Klamath National Wildlife Refuge." (The fish-predator Caspian Terns population in 2010 went from 0 to 325 in 3 months on Lower Klamath.) "This innovative island has been a tremendous success, as the Sheepy Lake tern colony appears to have had the highest nesting success of any Caspian tern colony in the region during 2010."
Photo: A new two-acre island for Caspian terns, shown before it was flooded, was built at the Tule Lake National Wildlife Refuge. Restoring refuges - Wildlife refuges benefit from stimulus funds, H&N, posted 10/16/09.
RELATED ARTICLE: Stimulus funds bring Caspian tern project to Siskiyou County, Siskyou Daily News 8/12/09. "...the Tulelake reserve rock island's cost is approximately $1.1 million, the Orems unit rock island's cost is approximately $650,000 and the Sheepy Lake floating island's cost is approximately $2.3 million...an estimated colony of 10,000 nesting pairs of Caspian terns on Rice Island in the Columbia River were consuming approximately 6 million to 25 million salmonid smolts per year, according to a 1999 USACE report."
Oregon Senator Doug Whitsett 6/13/13 Newsletter: Thousands of fish-eating Cormorants eating baby suckers?
Rat poison left outside illegal pot plantations threatens spotted owls: "The (Hoopa)tribe has received a $200,000 grant from Fish and Wildlife ... to cleaning up as many as five pot plantations identified on the reservation" H&N 5/29/13
PRESS RELEASE - Members Launch Endangered Species Act Working Group, House Natural Resources Committee, posted to KBC 5/11/13.
Judge tells feds to study owls before selling timber, Capital Press, posted to KBC 4/6/13. "Arguably, this means every timber sale in the Northwest Forest Plan area has to have an EIS...The EIS will likely come to the same conclusions, but will delay the timber project by up to a year and use up agency resources...That seems wasteful and unnecessary."
Ranchers wary of rules expanding scope of ESA, Capital Press 3/27/13. "cattle can be subject to greater restrictions on grazing near streams that are considered critical habitat even if no endangered or threatened fish swim in them, said Budd-Falen..."
Timber industry challenges spotted owl habitat, Capital Press 3/22/13.
Who did the spotted owl studies? Former Yurok forestry director released from jail; Raymond accused of embezzling tribal funds, posted to KBC 3/7/13. "Raymond and two biologists are accused of using an elaborate system of fake invoices, false purchase requests and electronic bank transfers to embezzle more than $870,000 in federal funds from the Yurok Tribe during a three-year period of wildlife preservation studies." (these included faked spotted owl studies). For more, see Klamath Science Misconduct page
Forests and logging page

Environmental groups abuse ESA, Hastings says, Capital Press 2/25/13
Department of Interior Federal Register: over 2 million acres proposed critical habitat for yellow legged frog and Yosemite toad, 1,105,400 acres. 750,926 acres in Yosemite: Part 2 Part 3 Public Comments due June 24, 2013. Mining and timber country..."Butte, Plumas, Lassen, Sierra, Nevada, Placer, El Dorado, Amador, Calaveras, Alpine, Mariposa, Mono, Madera, Tuolumne, Fresno, and Inyo Counties, California"
Feds to cut property rights under Endangered Species Act! PLF blog, posted to KBC 10/27/12.
Plea deal in works for Raymond in $1M embezzlement case; no federal charges yet for LeValley, McAllister, times Standard 9/26/12. "Raymond and biologists Sean McAllister and Ron LeValley are accused of using an elaborate system of fake invoices, false purchase requests and electronic bank transfers to embezzle more than $870,000 in federal funds from the Yurok Tribe during a three-year period of wildlife preservation studies (includes spotted owl studies)." HERE for Klamath Science Misconduct page
The incredible stretching Endangered Species Act, by Siskiyou County Supervisor Marcia Armstrong 9/4/12--coho, wolf, spotted owls. HERE for Armstrong Page
Attacks Against Rural Counties, from Dr Richard Gierak 8/20/12: Spotted Owl listing, Coho, Fish Kill, Yurok boat dance, water pulse, forestry roads, mining,...
Farmers, ranchers in the Langell Valley familiar with water crises, H&N, posted to KBC 8/16/12. "Under federally-mandated U.S. Fish and Wildlife Service biological opinions, a minimum lake level is required to support the short-nose sucker, an endangered fish." (KBC NOTE: There is a mandatory lake level in Clear Lake for "endangered" suckers. Before the Klamath Project was built, Clear Lake was a meadow. The reservoir was built to evaporate water so farmers could farm. The Project also pumped water out of this closed basin into Klamath River, water which historically did not reach the river. The federal government now demands a higher-than-historical lake level for salmon because of the ESA / Endangered Species Act. )
Humboldt: Federal charges against former Yurok forestry director over $1 million embezzlement, The Times-Standard, posted to KBC 8/15/12. "Raymond, LeValley and McAllister used an elaborate system of fake invoices, false purchase requests and electronic bank transfers to embezzle more than $870,000 in federal funds from the Yurok Tribe during a three year period of wildlife preservations studies... The surveys that allegedly were never conducted primarily purported to be for spotted owl research..."
Stand-replacement fire: PNW forest conditions pose biggest threat to spotted owls, other species, Columbia Basin Bulletin 7/27/12
Let the River Run: Strategies to Remove Obsolete Dams and Defeat Resulting Fifth Amendment Taking Claims, by Christopher Scoones, Seattle Journal of Environmental Law, 2012. KBC EDITOR: the message is how to deny claims of communities and resource users when they destroy dams, and use the ESA to force dam removal. "The Endangered Species Act (ESA) can be an effective tool for the removal of public and private hydropower and nonhydropower dams..."
There is local timber that could be cut, Bob Jensen, H&N, posted to KBC 4/15/12. "The 1990 Timber Management Plan for the Fremont-Winema National Forests called for a timber harvest of approximately 490 million board feet...this volume was never met due to legal challenges to various timber sales because of spotted owl and salmon controversies, so that today the two national forests produce approximately 50 to 60 million board feet annually."
The Yurok Grift, Questions linger in million-dollar embezzlement scheme after fugitive surrenders, North Coast Journal, posted to KBC 4/14/12. "Field had already figured out that the Mad River Biologists invoices submitted for spotted owl research were fakes...an associate at Mad River Biologists acknowledged that they hadn't conducted the surveys in question."
Ocean anglers get long salmon season; In Brookings, Gold Beach area it runs May 1 through Sept. 9, Mail Tribune 4/7/12. "The liberal seasons are possible because more than 1.6 million chinook are estimated to be headed toward Northern California's Klamath River, the highest number in more than 30 years."
National Marine Fisheries Service: 'Chinook not endangered, Siskiyou Daily News, posted to KBC 4/7/12. "The agency says several studies have "found that spring-run and fall-run populations in the Salmon River were nearly indistinguishable genetically and that spring and fall-run populations in the South Fork Trinity were extremely similar to each other and to the Trinity River hatchery stocks."
ESA partially to blame for bird kill at refuges, Debbie Kliewer, H&N letter 4/7/12.
Owl plan could fall to local agencies, Proposal calls for shooting barred owls, H&N, posted to KBC 3/12/12
U.S. plans to kill barred owls to save spotted owl, San Francisco Chronicle 2/29/12. "The government set aside millions of acres of forest to protect the owl, but the bird's population continues to decline - a 40 percent slide in 25 years." According to Siskiyou County Sheriff Lopey at Saturday's sheriff meeting in Yreka, in the early 80's there were over 22 lumber mills, and now only 2 are functional, and 65% of land in the county is public land. Endangered Species Act / ESA mandates locked up the forests to save the spotted owl. It devastated Siskiyou economy, they have one of the highest unemployment rate. KBC NOTE: Sacrificing the forest, wildlife and owls by rampant wildfires, and communities and economies, all by false science, did not save the spotted owls.
HERE and HERE about 2 esteemed spotted owl scientists.
Rex Cozzalio responds to newest program to impregnate Shasta River with fertilized coho eggs — preposterous, it is, PienPolitics 2/10/12
Timber industry files lawsuit against murrelet designation, posted to KBC 1/31/12. "Because humans almost never see the bird, the FWS seems to think it can throw a net over millions of acres of federal timber land that not only aren't being used by the bird, but don't even have the characteristics it is looking for when it flies inland to lay its eggs. Someone has to speak up about this violation of the limits of the ESA."
Guest Opinion ESA cripples communities 1/11/12, by Rod Kerr
Wolf worries, Siskiyou Daily 1/11/12. "There is no allowance under the law for killing of a wolf that is going after or preying upon livestock, but there is an allowance if there is a direct threat to life and limb for humans."
Cliff Wooten, former Lin County Commissioner and former resident of Tulelake, Calif. "With the problems of the "poor" management of the irrigation water (trying to save the "sucker" fish at Klamath Lake) the future of Tulelake farming is in jeopardy. I might add the entire lake was poisoned back in the mid 60's to kill all the sucker fish and now the same irresponsible government agencies are trying to "save" this fish which was destroying habitat of other fish. I can't count all the rowboat loads of dead suckerfish that was removed from Klamath Lake at Moore Park. The dead fished floated up and the wind "stacked" them at the park and I remember working for the Klamath Park Department "scooping up" these fish and our boats were dragged ashore and the dead fish loaded in County trucks and hauled away as fertilizer."
AUDIO - Attorney Karen Budd-Falen interviewed by Kirk McKinzie about Equal Access to Justice Act / EAJA, "The ESA does not require the agency to know how many species there are before it's listed...What the Obama administration is proposing is, let's include critical habitat in places where the species may feel like living someday..." Karen explains how the federal government reimburses environmental groups and litigants like Earthjustice and Center for Biological Diversity for attorney fees suing the federal government, however individuals or small groups rarely are reimbursed when trying to save their farms or property. The government does not account for how much money it gives these groups for fees.
House panel probes inner workings of ESA, Capital Press 12/14/11
Excessive Endangered Species Act litigation threatens species recovery, job creation and economic growth, Natural Resources Committee, 12/6/11
Federal Management of Oregon's Forest Lands, Senator Doug Whitsett Newsletter 8/12/11. "federal district court ruled that the owl was threatened under the Endangered Species Act and that nearly unlimited critical habitat was required to preserve the bird from extinction...Oregon's annual timber harvest from federal lands plummeted from 60 percent to 12 percent. Nearly 300 timber mills closed and more than 30,000 family wage jobs were lost."
Little hope in delisting endangered sucker, by Warren Haught, Klamath Falls 7/22/11. "Our local 11.8 percent unemployment rate is in large part due to the ESA."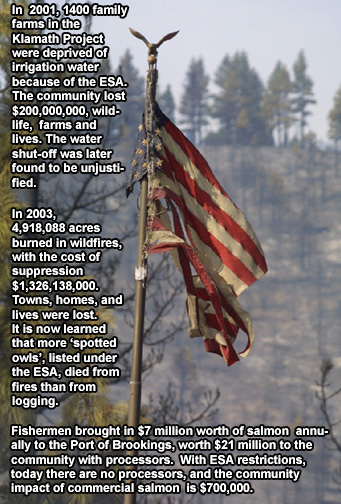 My Turn: Fish, frogs and owls didn't survive the Wallow Fire, by Douglas Brown, AZ 7/16/11
One owl horning in on another, H&N, posted to KBC 7/7/11. "One of the potential removal methods involves shooting the barred owls." followed by: Owl plan hinges on killing rival; Spotted owls not recovering; may be linked to barred owl. (KBC NOTE: a few decades ago the federal government poisoned suckers, killing thousands of them. Now the plan is to kill little barred owls...?)
Wildfires threaten protected habitats; wolves, owls among the endangered, H&N, posted to KBC 7/7/11. "Crown fires in overgrown forests have become the greatest cause of unusual losses for the (spotted owl) birds, and 73 protected nesting areas were burned in the fire,...The burned forest supports more than a dozen other endangered or threatened species, including snails, frogs and fish. Dozens of other species live in the forest that aren't rare, including bear, deer, antelope and a herd of elk that, at about 6,000, is among the state's biggest."
Environmentalism on taxpayers' dime, Victorville Daily Press Opinion April 18, 2011. "... the Center is one of four environmental groups seeking to protect the "spring run" of the Upper Klamath chinook salmon under the Endangered Species Act by submitting a petition seeking to designate the fish as a "distinct species....between 2000 and 2009, eight environmental groups — led by the Center for Biological Diversity — filed at least 1,596 federal court cases against the federal government....These same environmental groups are receiving billions of tax dollars in attorney fees for settling or 'winning' cases against the federal government."
Officials back environmental reform, Klamath Commissioners vote to support changes to Endangered Species Act, H&N 4/27/11
No salmon above Klamath River stateline, by James Waddell, Karuk People tribal member 4/14/11. From A. L. Kroeber's "HANDBOOK OF THE INDIANS OF CALIFORNIA" "The salmon are said not to run into the Klamath Lake or above, and streams are much smaller and standing bodies of water infinitely more important than in the northwest. …"
More letters and research by James Waddell HERE.

Chinook salmon could get endangered species protection, Petition passes; year-long review process begins, H&N, followed by Agency will examine Klamath Chinook listing, Siskiyou Daily News, posted to KBC 4/14/11. (KBC NOTE: each plaintiff, KLAMATH SISKIYOU WILDLANDS CENTER; ENVIRONMENTAL PROTECTION INFORMATION CENTER; KLAMATH FOREST ALLIANCE; CENTER FOR BIOLOGICAL DIVERSITY" is supported by Earthjustice, supported by George Soros. They also oppose salvage logging trees burnt up in a fire. Same force and $ behind the NGO's in the KBRA.)

SUCKERS AND THE ESA / Endangered Species Act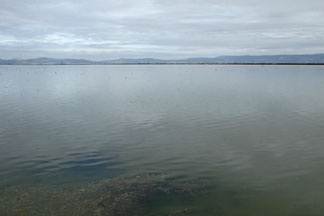 Irrigation water released, canals fill;
Officials anticipate normal water year,
H&N 4/5/11. "
Last year at this time, the A Canal wasn't flowing" (KBC NOTE: because of government lake level mandates for suckers.) "
Wildlife refuges in Lower Klamath and Tule Lake didn't get water last year either."
(KBC NOTE: HERE for more pix of 2010 water on Tule Lake refuges)

< KBC Photo of Tule Lake refuge in 2010
Tag, you're it Biologists tagging endangered suckers in Lake Ewauna, H&N 4/5/11. "
The initial reason (for tagging) was to find out how many there are..."
The estimated few thousand suckers are ... not large enough to potentially push the fish off the endangered species list."

Water, sucker science argued at conference, H&N 2/4/04, "
(William Lewis, chair of the National Research Council committee) said ...the finding that water levels in Upper Klamath Lake aren't as important for suckers as previously thought, ...(the NRC) found that lake levels aren't a "master control" for larval suckers, Lewis said."
MORE on William Lewis and lakes levels for suckers at 2004 science conference.

David A Vogel, Fisheries Scientist written testimony about endangered suckers (KBC NOTE: Vogel says there were 10's of thousands more suckers than estimated when they were listed as endangered, however gov't agencies won't allow them to be delisted.) July 17, 2004.
HERE for 2004 Congressional Hearing on the ESA, and testimony
HERE for Klamath ESA DVD, sectioned film of the 2004 hearing and rally.
Klamath County Republican Central Committee letter to Klamath Irrigation District and other Klamath Basin Irrigation Districts regarding the ESA/Endangered Species Act, posted to KBC 3/28/11
Scientists to study lethal removal of barred owls, H&N posted 3/13/11
New Spotted Owl Plan Would Hurt Rural Economy and Ignore Real Solutions, Forestry Groups Say, PR Newswire, posted to KBC 2/26/11
Foreign and domestic train wreck in the making - more of the ESA, Budd Falen Law, posted to KBC 1/26/11
Governors air gripes about Endangered Species Act, Western governors meet for two-day conference, H&N, posted to KBC 12/19/10
World Governments Agree on Zero Extinction Target at Convention On Biological Diversity Conference in Nagoya, Japan, American Bird Conservancy, posted to KBC 10/30/10
Another town needs help. Please watch this 20 minute video. We lived this in 2001 when our water was shut off, and other Klamath Basin farmers lived a water shutoff this year. People with water rights signed by the President of the U.S.A. Thanks Awaker on our Discussion Forum for finding this sad story told by Americans on the East Coast being destroyed by environmental groups and the same government agencies.
ESA requires real repairs, Capital Press editorial posted to KBC 9/19/10
Smelt regulations violate Constitution, Capital Press, posted to KBC 8/28/10
Double Standard on Salmon Losses? California Ag Network 5/27/10
Basin home to diverse population of lampreys, H&N, posted to KBC 2/15/10. (KBC Note: The Klamath agreement supports planting more lampreys / fish parasites, in Klamath Bason.)
Spotted owls' rivals targeted, H&N 12/10/09
CONSIDERATION/ACTION: Request Board approval and Chairman's signature on attached letter to the Klamath Basin NWR Complex. (Farm Advisor) Sage Grouse, Modoc County Supervisor's audio, posted to KBC 12/3/09
ESA blamed for low flows (Calif. Central Valley), Capital Press 12/3/09
ESA Pitted against our economy, by Nita Still 11/20/09
Saving the sucker, how the fish was listed as endangered, and Critical habitat: Providing safe havens for fish by Jill Aho, Herald and News, posted to KBC 9/17/09
KBC NOTE: "In 1986 the U. S. Fish and Wildlife Service staff responsible for whether or not to pursue these (ESA) listings believed there were only 12,000 Lost River suckers in Upper Klamath Lake...they didn't believe they were endangered. A couple years later...we now know for a fact that number's exceeded by tens of thousands of Lost River suckers. Now they flip flop and say they are endangered. What constitutes endangered? David Vogel, fisheries scientist with 29 years experience, 14 years working for the Fish and Wildlife Service."
.
Sucker holds significance for tribes, H&N, posted to KBC 9/17/09.

KBC COMMENT:

According to Klamath Basin Restoration Agreement advocates, power ratepayers and taxpayers must pay millions/billions$ to decimate four Klamath River dams because salmon must come into the Klamath Basin and beyond because they supposedly provided food for the Indians. In this article, tribal biologist said the indians staple was suckers; they would have starved without suckers. What was it, suckers or salmon?
Advocate: Watch your water rights, Capital Press 11/24/08. "Right now the Supreme Court has made the determination that we are going to protect species at any cost. ... It won't make a difference if 25 million people in Southern California are without water."
Sucker revision under way, H&N, posted 6/20/08. "...an appointed group of stakeholders, meetings and consultation from Desert Research Institute researchers will guide the revisions...A fisheries biologist from the Klamath Tribes, the Nature Conservancy and individuals from Oregon State University and the U.S. Geological Survey will participate as stakeholders...Commissioner Bill Brown was concerned to not see a representative from the irrigation community in the stakeholder group and asked if that could be changed. Buettner said the group was established by regional director Steve Thompson..."