https://www.heraldandnews.com/news/local_news/lower-klamath-refuge-construction-an-effort-to-save-salmon/article_82a9e0a0-2037-564f-b196-500768ffabc7.html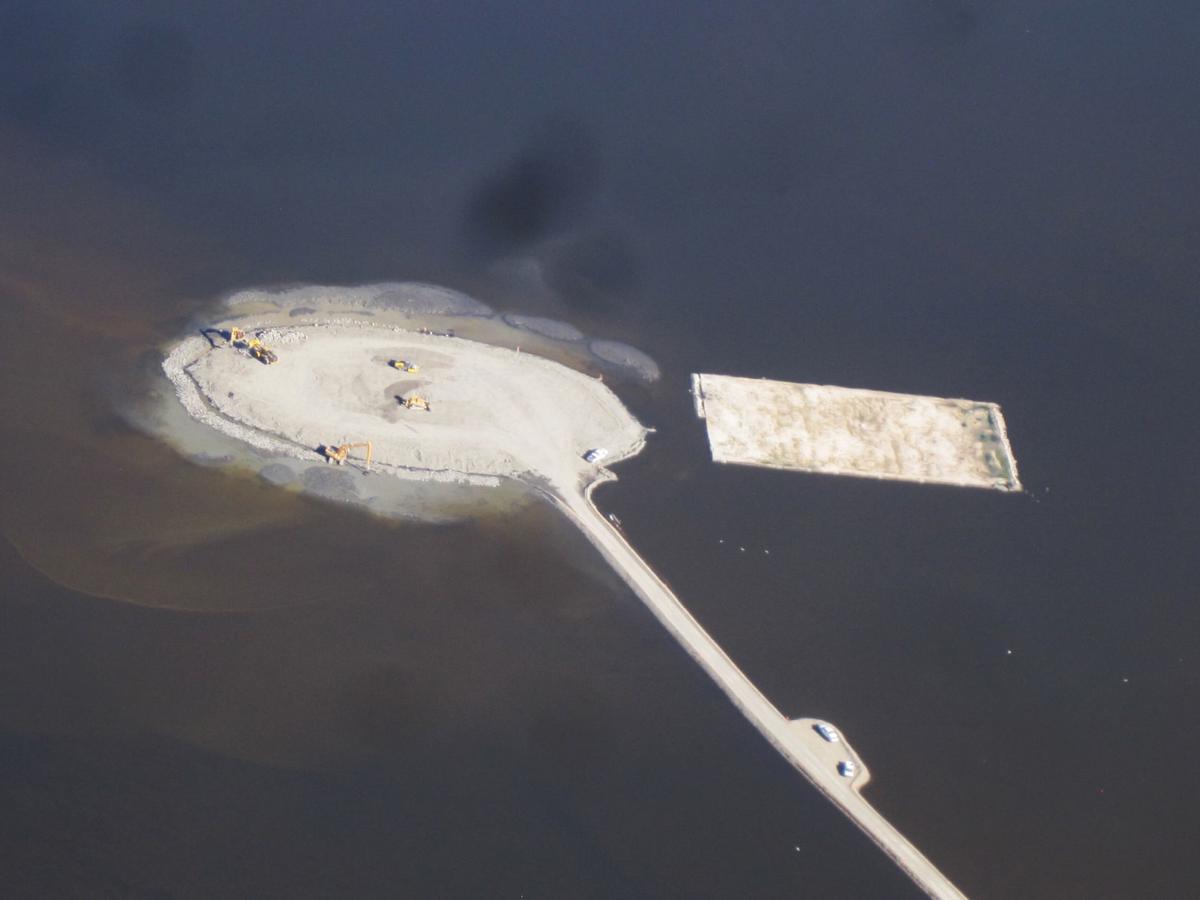 Lower Klamath Refuge construction an effort to save salmon (on the Columbia River)
Habitat restoration aimed at dispersing Caspian Tern populations
by KURT LIEDTKE, Herald and News Feb 14, 2018
Construction of an island in the Lower Klamath National Wildlife Refuge by the U.S. Army Corps of Engineers is the latest effort in a multi-year project to protect salmon and endangered fish species on the Columbia River by dispersing growing populations of Caspian terns.
Large trucks may have been seen moving dirt in the Merrill area recently to build a new earthen island within the Lower Klamath Refuge to act as nesting grounds for Caspian terns, a large gull-like species that hunts fish and have decimated salmon smolt populations.
The construction effort to build an access road and earthen island is ahead of schedule, with the causeway to be removed once the island is completed. The project replaces a three-quarter acre floating island that was made around eight years ago, and is now degrading. The original floating habitat island was comprised of scotch brite, eurothane and gravel, held together with cables, but the cables used were not galvanized and have since rusted, causing the floating island to fall apart.
Road closure
During construction, the Willows Road portion of the Lower Klamath National Wildlife Refuge has been temporarily closed as a matter of safety where heavy trucks and soft shoulders pose an accident risk if mixed with other traffic.
"The project on Lower Klamath Refuge is about a month ahead of schedule, and we have made minor changes to the contract as a result," said John Beckstrand, wildlife biologist for the Lower Klamath National Wildlife Refuge. "To get access to the refuge they had to fix roads and built a new one in the upland area, which we have decided for access purposes to leave so we can get a boat in there, but the causeway to the island will be removed."
In 2008 a joint-agency effort identified a multi-tiered management plan to decrease predation rates of outmigrating juvenile salmon and steelhead through the Columbia River by fish-eating birds. To reduce exploding populations of predatory birds, primarily Caspian terns which began nesting on islands along the river mostly created from dredged river sediment spoils, construction began in 2014 on habitat projects at Goose Island and Crescent Island on the Columbia, and in 2015 at Don Edwards National Wildlife Refuge in San Francisco. The ongoing construction on the Lower Klamath Refuge continues this effort to provide alternative nesting grounds far removed from salmon migrations.
Dissuading terns
Passive measures being implemented to move Caspian terns from the mid-Columbia River area where they are having the largest negative impact include planting of native vegetation, installation of rope and flagging and bird hazing efforts during nesting seasons.
Lethal measures for mitigation efforts also began in 2014 against thousands of cormorants by the U.S. Army Corps of Engineers along East Sand Island at the mouth of the Columbia River, a 62-acre island that is the largest breeding ground for Caspian terns in the world and the largest colony of double-crested cormorants in North America. Terns were lured to the island as a new breeding ground to remove them from upriver territories, but the explosion of cormorant populations was an unanticipated side-effect that has had a negative impact on fish populations entering the Pacific Ocean.
In 2016 U.S. Army Corps of Engineers killed almost 3,000 cormorants and destroyed eggs in almost 1,100 nests, and in 2017 the Corps' collected permits to kill 2,400 cormorants and destroy 4,000 nests.
According to Beckstrand, the Caspian tern population along the Columbia River has been responsible for around 15 million to 20 million salmon smolts being eaten annually. The cormorant population growing on East Sand Island is estimated to be responsible for an additional 11 million young salmon each year.
Spotting terns
Caspian terns, easily identifiable for their red beak with black tip, are a common site in Klamath County, often seen around Lower Klamath Lake diving into the water to catch fish.
"We also have American white pelicans that nest in the unit on Lower Klamath Refuge, and we see it as a place that they can nest as well, since they started using the floating island," added Beckstrom.
The new island's construction will also help manage water levels on the refuge. Beckstrom anticipated the project to be completed and the access causeway removed within a few weeks.
For more information contact the Tule Lake National Wildlife Refuge at 530-667-2231
====================================================
In accordance with Title 17 U.S.C. section 107, any copyrighted material herein is distributed without profit or payment to those who have expressed a prior interest in receiving this information for non-profit research and educational purposes only. For more information go to: http://www.law.cornell.edu/uscode/17/107.shtml