Tribal-driven lawsuits
bills, laws, acts
Tribal calls to shut down water use
* Indians Table of Contents
Klamath Tribes sue federal government over water releases to farmers, Capital Press 5/13/22. "...KWUA says the anticipated 50,000 acre-foot Project allotment represents no more than 5% of all the water that will be used this season from Upper Klamath Lake. About 40% will be sent down the Klamath River for ESA-listed salmon, 28% will be held in the lake for C'waam and Koptu and 27% will be lost to evaporation..." KBC NOTE: Klamath Project irrigators store their irrigation water in Upper Klamath Lake, causing the lake to be higher than historically possible before the Klamath Project was built. The highest sucker counts were when the lake was lower, before the ESA mandated confiscating our legally stored water.
Klamath Tribe suing Biden administration over Oregon water to farmers, H&N 4/15/22. "We implore you to rescind the 2022 plan and operate the project this year consistent with the law, which requires the prioritization of the needs of the C'Waam and Koptu," (Klamath Tribe Chairman Don) Gentry said using native language terms to describe the suckerfish. The fish also have spiritual, cultural and historical significance to the tribes." Yurok Vice-Chairman Frankie Meyers said, "The Upper and Lower Klamath Basin once functioned as an integrated system that provided abundant salmon, suckers and waterfowl with minimal intervention. It is our duty to bring this system back into balance and we will never stop working toward that goal..."
KBC NOTE: Not mentioned in the H&N article, last summer farmers got zero allocation while the Bureau of Rec. withheld 40,000 acre feet of our stored water above what the ESA required, and refused to pay it back to the farmers. In 2021 the agencies and tribes dewatered our refuges for the first time in more than 10,000 years according to Fish and Wildlife Service.

< Photo from High Country News of Frankie Meyers. Not mentioned by Meyers is, our Klamath Basin DID function as an integrated system with abundant salmon, suckers and waterfowl until, against the direction of the "best available science," the National Research Council, the government agencies mandated higher lake levels and river flows than historically possible before the Klamath irrigation project was built. Lake level and river flow management will not increase sucker propagation according to the NRC. Suckers thrived in years of low water levels.
Watch Meyer's video: https://www.facebook.com/frankie.../videos/4455720501123904 "...You are always in the right if you're telling your government officials to give land back to indigenous communities..." A ten minute video well worth your time. Keep in mind, every Klamath tribal member was given a ballot to vote on whether to terminate their tribe and receive money...they overwhelmingly voted to terminate and were paid for their land. They later were given allotments and most of them sold their allotments.
Also, Mayers claimed that only white veterans were chosen to win a Tulelake homestead. FACT: WWI and WWII veterans with farm experience were entered into a contest, and winners were drawn from a pickle jar. Skin color was not a prerequisite.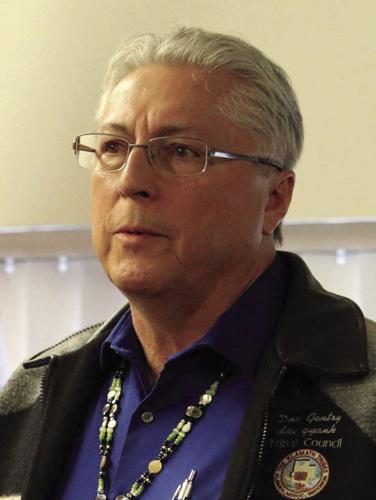 < Photo from Herald and News. Don Gentry, current Klamath Tribal Chairman discusses termination and allotments in October 7, 2003 on Tribal Tour of the forests they hoped to be given: #9 In the van, Tribal Resource Specialist Don Gentry in discussion about Termination
Court upholds Klamath Tribes' water rights, irrigators plan to challenge, H&N 2/27/21. "...Paul Simmons, executive director of the Klamath Water Users Association, said Klamath Project irrigators are largely unaffected by the decision, as a settlement prevents the Tribes from using water rights in Oregon to curtail deliveries to the Project from Upper Klamath Lake..."
Oregon Court Affirms Klamath Tribes' Water Rights, Klamath Tribes News Release 2/25/2021. "Wednesday's order...affirmed the senior priority date of the Klamath Tribes' water rights in the Klamath Basin, and upheld the need to maintain a healthy and productive habitat to meet the Tribes' treaty right to fish, hunt, trap, and gather..."
Upper Klamath Lake forecast looking poor for fish and farms, H&N 2/19/21. "Klamath Tribes have filed a notice of intent, saying they will sue the U.S. Bureau of Reclamation for violating the Endangered Species Act if Upper Klamath Lake dips below levels outlined in the 2020 biological opinion this spring...'We know that we're in a very serious situation,' (Klamath Tribal Chairman) Gentry said. 'It looks like there's going to be very little water, if at all, for irrigation.' "
Yurok Tribe joins lawsuit seeking temporary restraining order to restore essential water flows for Klamath River salmon, Del Norte Triplicate 5/18/2020. "The Yurok Tribe joined the Pacific Coast Federation of Fishermen's Associations and the Institute for Fisheries Resources in pursuit of a temporary restraining order to reinstate water flows on the Klamath River."
4/4/2020 - KBC NOTE: PCFFA (Pacific Coast Federation of Fishermen), IFR and Yurok Tribe sued to take another 50,000 acre feet of Klamath Project stored water to dump into Klamath River. Klamath Water Users settled for giving up 23,000 acre feet of their deeded water. Yuroks celebrate their victory: Yurok Tribe and commercial fishing families secure more water for salmon, from an Earthjustice news releaseThe Yurok Tribe, the Pacific Coast Federation of Fishermen's Associations (PCFFA), and the Institute for Fisheries Resources (IFR, represented by the nonprofit environmental law firm Earthjustice, have successfully obtained a new three-year plan from the Bureau of Reclamation (Reclamation) for operating the Klamath Irrigation Project to increase springtime flows in the Klamath River.
Yurok vs. Reclamation case moved to March 6, H&N 2/28/2020
* Yurok Tribe files suit against Reclamation, H&N 12/29/19.
* Federal agencies can't ignore science and facts; National Academy of Science found there was no credible scientific basis for Hardy's flow requirements, by RY KLIEWER Guest commentary for H&N
"Dr. Hardy made the mistake while he was working for the government. He didn't admit his mistake; instead he blamed the government. Now he is helping someone else sue the government for his mistake. While all this is going on, Dr. Hardy's theoretical fish models remain disputed by the highest science body in the land — the National Academy"

* The court case is "Yurok Tribe, Pacific Coast Federation of Fishermen's Association and Institute for Fisheries Resources vs. U.S. Bureau of Reclamation and National Marine Fisheries Services. Attorneys Earthjustice, representing Yuroks, PCFFA and IFFR, are financially supported by George Soros
* 'Erroneous' data triggers new biological opinion, H&N 11/17/19. "The most recent consultation, which also took into consideration the effects on the killer whale in the Pacific Ocean, was expected to last through 2024"..."There are things that we believe that have gone beyond the duties of the Klamath Project," said KWUA Executive Director Paul Simmons.
Yurok Tribe responds to 'Takings' outcome, H&N 11/19/19. "Officials representing the tribes interests said this means two things: (1) that Yurok water rights require the Bureau of Reclamation to provide, at minimum, enough water to the Klamath River to support salmon habitat and ensure the persistence of coho salmon and, (2) that Klamath Irrigation Project water withdrawals can only occur when there is enough water in the river to ensure the persistence of the fish."
Klamath Tribes agree with court's ruling (on Takings Case), H&N 11/16/19. "Sue Noe, affiliated with the Native American Rights Fund (NARF) and legal counsel for Klamath Tribes, said that Klamath Project irrigators, who are junior water users to the tribes, "were not entitled to receive any Project water in 2001." (KBC NOTE: AFTER the 2001 water shutoff, the National Research Council stated that the water shutoff was "unjustified." For some perspective, NARF is supported by Ford Foundation and Carnegie Corporation, which along with George Soros' Open Society Foundation funded the northbound central American migrant caravans through Mexico:" https://onenewsnow.com/culture/2018/05/01/reports-soros-funding-border-caravan-invasion
Court Denies Farmers' and Ranchers' Just Compensation Claims in Water Takings Case Western Water Law challenged in the process, KWUA 11/14/19
Klamath Tribes drop ESA lawsuit against BOR. Merkley to hold PRIVATE Sucker Recovery Summit November 16 in Klamath Falls, H&N 11/9/18.
Tribes oppose irrigators' $50 million bond request, H&N 7/18/18. "...the Tribes filed a motion for a preliminary injunction directing BOR to maintain lake levels at a minimum required to ensure fish survival...the Tribes are required by federal law to put forward financial security to cover losses incurred as a result of the injunction...the annual crop value of irrigators within the Klamath Project was reported at $169 million in 2016..(Klamath Tribe) chose to seek a remedy at a time that would inflict the worst possible damage on the agricultural community...
(Court hearing is) this Friday in San Francisco before Judge William Orrick.."
KBC NOTE:
* There are 10's of thousands of suckers in Klamath Lake
* There is no number of how many suckers the tribes or government want in the lake to unlist them as "endangered"
* After the 2001 complete water shut off to the Klamath Project, the National Research Council of the National Academy of Sciences in 2004 wrote that the 2001 Klamath Project water shut-off was not scientifically justified. This was after there were millions of dollars worth of crop and contract losses, bankruptcies, heart attacks, suicides, and mass exodus of our Hispanic Community that had lived and worked here for decades.
*