< (Tulelake) Pilot (Nick Macy) wins sixth (national) championship in Reno. "Nick Macy's average of 247 mph breaks speed record," H&N posted to KBC 10/13/12
John Terry, 1915 - 2012. KBC NOTE: John was a WWII veteran who won a Tulelake homestead. He defended his country, then raised food for a hungry nation. He participated in the documentary Homesteading in a Promised Land. He wrote a letter to Congress in 2001 when the federal government denied Klamath farmers and ranchers their irrigation water.
< Area resident Nellie Takacs celebrates 105th birthday, H&N 1/22/12. KBC NOTE: In the film Homesteading in a Promised Land. Nellie tells how she came to the Klamath Basin in a covered wagon when she was 3 years old.
Deerplay double gather for American-bred Fleece, Farmers Guardian, posted to KBC 6/11/11. "DEREK Scrimgeour won the Deerplay Double Gather Championship with his prick-eared tri-coloured smooth-coated bitch Fleece, which was bred in the US by Geri Byrne, and imported as a youngster. Trained here, she won one of the most prestigious trials in England, after winning the Deerplay Open last year.) KBC NOTE: Geri Byrne from Tulelake, Calif, breeds, trains, and participates in national and international sheepdog trials, and also has planned the National Finals 3 times in the Klamath Basin. Congratulations Geri!

A life in focus. Menke's photography spurred international interest in Klamath Basin wildlife refuges, H&N, posted to KBC 5/16/11
Dave Menke helped create our Klamath Basin Crisis Photo Gallery, providing his wildlife photography and descriptions. Thank you Dave.
Ted Rupert 1921-2011
Earl Otto Schultz Jr, 1950-2011. In 2001 when the feds shut off water to 1400 family farmers, Earl approached me, the current KBC News manager, and said the irrigators need a website. Within a week his classmate Ron DeShon built www.klamathbasincrisis.org Thanks a lot Earl! This website has earned me many enemies by exposing the truth and allowing local and neighboring resource users a voice, something we did not have before 2001. Happy Trails!


Herald and News: "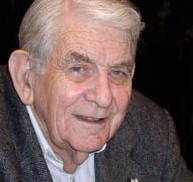 David L. Carman, who was born on Nov. 2, 1918, died on April 8, 2011. He was a World War II combat infantry veteran and a 1948 Tulelake homesteader. He was a good husband, father, and grandfather, well read, a great conversationalist, and an outspoken rugged individualist all the way to the end of the line. A family memorial will be held in Chico, Calif., on Saturday, April 16."
HERE for Carman's testimony on behalf of Klamath Basin Veteran Homesteaders for Field Hearing July 17, 2004 in Klamath Falls, Oregon.
HERE for the 4th of July - Memories, by David Carman
We will miss you Dave. Did we ever thank you for your service to our country? And your friendship? Thank you! We hope to see you in God's Promised Land.