Gilchrist mill's new owner upbeat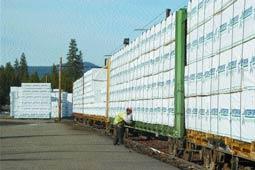 Railcars loaded with lumber await shipment at the sawmill in Gilchrist. The mill is now owned by Interfor Pacific, a British Columbia firm, which has also bought mills in Port Angeles and Marysville, Wash.
By LEE JUILLERAT , Herald and News
GILCHRIST - Its name has changed, but the faces are the same.

The Gilchrist sawmill in northern Klamath County, which had been owned by Crown Pacific since 1991, is now owned by Interfor Pacific, part of the expanding network of lumber mills owned by International Forest Products based in Vancouver, British Columbia.
Interfor took over ownership of the Gilchrist mill along with the Klamath Northern Railway Co. in September.

The mill was originally built by the Frank Gilchrist family in 1938 and rebuilt in 1979. In 2001, more than $28 million was invested to allow the mill to process small-diameter logs more efficiently.
"We're a state-of-the-art facility," said John Straw, the mill's manager.

The mill has 150 employees, including contractors, and runs two shifts five days a week. The mill annually produces 160 million board of lumber, mostly dimension lumber for windows, frames and doors.
The acquisition was part of a larger takeover of Crown Pacific companies that included mills in Port Angeles and Marysville, Wash. Total cost for the combined holdings was $57.3 million, plus a working capital of $16 million. The new mills have a combined annual capacity of 335 million board feet.

An Interfor Pacific sign is now located at the Gilchrist mill entrance on Highway 97, but little else has changed. Straw, who was named manager by Crown Pacific in 2002, and John Ernst, a Gilchrist Timber Co. employee since 1986, remain in the Gilchrist mill's top management positions. Ernst is the general manager for log procurement.
The company owns no forest lands, so it buys from private timberlands and federal timber sales.

"It was a seamless transition," said Straw, noting that virtually all the former employees were retained and that none lost any benefits. "It was very smooth, but everybody worked hard to make it smooth."
"You couldn't have asked for a better transition," agrees Ernst, noting the mill was down for only three hours.

Straw and Ernst said mill employees were understandably anxious about their future, because Crown Pacific had been going through bankruptcy proceedings for several years.
Interfor executives eased the transition by holding a pizza party for employees - and surprising them by announcing that all would receive $500 bonuses.

"We wanted to make sure the Gilchrist employees knew we are serious players and that we regard them as valuable assets," said Steve Crombie, Interfor's director of public affairs. "These changes in ownership can be scary for people. We wanted to make a smooth transition. We're very pleased. The team that's managing the mill is very good."
With an annual payroll of $6 million, the mill is northern Klamath County's major employer. Gilchrist has about 500 residents while Crescent has more than 1,000. Most of the area's services were created to support the mill and the town of Gilchrist, which until the 1990s was owned and managed by the lumber company.

"I think we're a vital component of the community," said Ernst, who believes the mill's importance is often overlooked. "We're the northern county's biggest employer. We're proud to be in Klamath County."
Crombie said Interfor officials are pleased to own the Gilchrist mill and railroad, which ships more than three-quarters of mill products to Diamond Lake Junction, where products are transferred to the Union Pacific Railroad for shipment around the U.S. Within Klamath County, Collins Products often buys chips and shavings while some lumber goes to Jeld-Wen plants.

"We realized they were going to be a good asset for Interfor, and fit in with our goal of diversifying us geographically," said Crombie, who explained Interfor has mills along the British Columbia coast and one in inland.
"We are definitely interested in continuing to upgrade the operations," Crombie said, noting a new $1.2 million dry kiln is being built at Gilchrist.

The Gilchrist mill was desired, he explained, because of its extensive 2001 retrofit and its location near forest lands, which reduces transportation costs.
"We believed we would be successful in buying fiber on the open market," Crombie said. And, because of the 2001 upgrade, "It's a relatively new mill. The mill is very clean and tidy. It just kind of hums along."

Interfor history
Interfor began in the 1930s with a sawmill at Whonnock near Vancouver, British Columbia. The company, then named Whonnock Industries, expanded by buying manufacturing plants and timber resources, mostly along the British Columia coastal region. In 1971, the company bought a sawmill in the interior, near Kamloops.

In 1977, Sauder Industries Ltd. acquired a controlling interest, which has since transferred to Mountclair Investment Corp., a Sauder family holding company. By the mid-1980s, the company had completed 25 acquisitions of timber, logging operations and mills in a 10-year period.
In 1988, the company changed its name from Whonnock Industries to International Forest Products, and adopted the trademark "INTERFOR." Acquisitions continued in the 1990s for cutting rights, sawmills, planer mills and numerous logging operations.

A restructuring program that began in 1998 included aggressive cost-cutting measures through simplifying and streamlining logging and sawmilling operations and administrative procedures. One sawmill was sold and operational changes implemented at several other mills.
Since 1970, Interfor has increased its annual lumber production capacity from about 65 million board feet to 750 million board feet and increased its annual timber harvest from about 300,000 cubic meters to more than 3.6 million cubic meters. Interfor reached an agreement with Crown Pacific July 9, 2004, to acquire mills in Gilchrist, and in Port Angeles and Marysville, Wash., for $57.3 million plus working capital at $16 million. The three sawmills are operated under the name Interfor Pacific, a United States division of Interfor. Interfor took over ownership of the mills Sept. 1.

On the Web: www.interfor.com.