Students scope Basin products at Farm Expo
March 2, 2005

By HOLLY OWENS Herald and News
It's not every day that a student gets to sit on a bale of hay and learn about the world around them.

During its 20th year the Klamath County Farm Expo at the Klamath County Fairgrounds Event Center is again teaching Klamath and Lake county fourth-graders what is grown and produced on Klamath Basin farms and ranches.
Event organizer Christy Flowers anticipates that during the event that began Tuesday and ends today approximately 1,100 students will tour the 15 exhibits, get a close-up look at farming equipment and meet the animals.

The expo was also open to the public Tuesday evening.


"I think it's a big thing to a lot of kids," Flowers said, "I know a lot of them seem to like the small animals."

The farm expo lets the children know how much it costs to raise the food they eat and what the food they eat is made out of said Flowers.
Students are scheduled to show up for morning and afternoon sessions at the expo and split up into groups. They travel from one exhibit to the next, hands full of plastic bags packed with leaflets, potato chips and the occasional purple potato.

Exhibits focus on farm animals, crops, FFA and 4-H programs and one of the key elements of farming and ranching in the Basin - water.
The Klamath Water Users were new presenters this year with an exhibit featuring a video presentation, a map of local wells and irrigation districts and a map of what the Basin was like 100 years ago.

Over the years at the farm expo some things have changed said Flowers. Some crops no longer make an appearance at the event or in the Basin.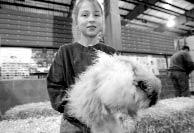 Kami Dumont, 12, shows off her Angora rabbit at Farm Expo in the Event Center Tuesday.
"We used to have sugar beets and we don't have them any more," Flowers said.

Each exhibit has something different to teach the students.
The Klamath County 4-H exhibit put the focus on small animals with rabbits, chickens, a lamb and a baby goat showcased by children in the 4-H program.

Project posters done by 4-H members on goat parasites, a recipe for applesauce muffins and community service projects lined the exhibit booth.
Master Gardeners taught students about the importance of seeds, from carrots to coconuts, and how each is unique.

"Seeds are like people. They're all a little bit different," the Master Gardeners speaker explained.
At the Midland Porkies exhibit the speaker taught students about the many uses for the parts of a pig, including snouts used as dog treats, causing girls in the front row of hay bales to cover their noses.

The centerpiece at the Event Center was a long banquet table set with 130 sets of glasses, plates, silverware and napkins, illustrating that the average farmer and rancher produces enough food and fiber for 130 people.