Rancher runs for Wyden's position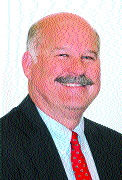 Al King
Published March 12, 2004
http://www.heraldandnews.com/articles/2004/03/12/news/top_stories/top1.txt
By BROOK REINHARD
Malin rancher Al King is running against five Republican opponents May 18 for the chance to challenge U.S. Sen. Ron Wyden in the general election.
King, a former California Department of Justice administrator and construction contractor, filed for the Senate seat Tuesday afternoon, just before the 5 p.m. deadline. He said he monitored his competitors' movements to the last minute, and when no political heavyweights filed as Republicans, he paid the $150 fee and did so.
"I've got so many things I'm very passionate about that will affect our Basin. So I'm hoping to give that voice to all those people in those coffee shops and in those restaurants and at their kitchen tables," he said.
The lack of political experience on the part of his opponents may help him in the Republican primary.
"They're not names from the Legislature," he said. "They're just like me."
His Republican rivals are Pavel Goberman, Bruce Broussard, E. Bowerman, Thomas Lee Abshier and Philip Petrie. Their political experience is next to nil: For example, Abshier has been a lobbyist, Broussard has served on municipal boards and committees, Goberman appears to be running to promote his health and fitness Web site - after all, it's not every day you visit a campaign Web site and see shirtless photos of the candidate working out. The site offers a physical fitness program and his book for sale.
King, on the other hand, has gained some political savvy by being a party man. His friends in Malin decided to write him in as a precinct person in 1999, and from there he was elected vice chairman, then chairman, of the Klamath County Republican Party. Members helped elect him vice chairman of Oregon's Republican Party, and King was a delegate to the Republican National Convention in 2000.
He ran for chairman of the state's party in 2002, but lost by a two to one ratio to Kevin Mannix.
King appears to enjoy campaigning - and talking about campaigning, and planning campaigning, and working on that perfect handshake. But even if he can beat his rivals in the primary, he's in for a tough fight. Incumbent Democrat Wyden trounced Republican John Lim in the senator's 1998 election, collecting 304,000 more votes than Lim out of the 1.06 million cast.
King, 58, said there's a good chance he can pull out a victory, if he wins the primary. Oregon is considered by political experts (and King) to be "in play" in the presidential race. That means members of both parties will turn out in high numbers to support presidential candidates John F. Kerry or George Bush.
This gives the Malin resident a better chance because those people voting for Bush will probably cast a vote for whichever Republican senator is on the ballot. Running a strong Senate race also makes Bush look good, King said.
"It's going to be very important to have a very active, very aggressive campaign for U.S. Senate, and for all the other offices that matter," he said.
Born in Napa, Calif., King moved to the Basin in 1969, but soon moved to California, once he saw all the jobs dry up. He worked as a police officer at University of California, Davis, then worked as a teacher and instructor at three colleges in the 1970s, teaching executive development seminars and criminal justice courses. At the same time, he worked for the California Department of Justice. From 1972 to 1986 he served in a variety of positions, including narcotics enforcement administrator, child support enforcement administrator and the governor's office criminal justice advisor.
He started Al King Enterprises, Equipment Rentals, in 1986, and operated the business until he moved back to the Basin in 1996. He started teaching criminal justice administration courses in 1996 at Klamath Community College, and has worked as a rancher and cattleman since that time.
King has served on the Klamath Community College board of directors and its site selection committee, and is a member of the Malin Chamber of Commerce. He and his wife, Kathy, have one daughter, Amber, who lives in the Bay area.