Harvesting Klamath algae
H&N photo by Andrew Mariman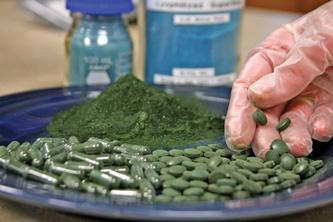 Desert Lake Technologies, a local company that harvests algae from Upper Klamath
Lake and sells the green goods as dietary supplements, is expanding its storage capabilities by acquiring the Klamath Cold Storage on Spring Street. Local businesses still bringing in the green

by Ty Beaver, Herald and News October 21, 2008

The business of harvesting algae from Upper Klamath Lake isn't what it used to be, says Bob Longo.

Back in the mid-1990s, an explosion of various products made from the lake's algae led to an economic boom. Companies and individuals touted a range of benefits and uses. It was said to increase mental health. And it was good for plant fertilizer, too.

"Anybody could have gone out in a rowboat and hustled up some algae," said Longo, now an executive vice president of Desert Lake Technologies.

Heydey past

The marketing heyday is past, but, Longo and others say, there is still a demand for the various products made from the algae. New products and expansion efforts show that those selling and harvesting the algae are far from falling away completely.

At the peak of the algae's popularity in health circles, Simplexity Health, formerly known as Cell Tech, employed about 600 people in the Klamath Basin. The company still has one of the larger work forces of the remaining companies but at a fraction of its former self with 60 employees.

Simplexity and Klamath Algae Products sell their products direct to consumers as health supplements, such as capsules, powders and drinks.

Desert Lake Technologies is a wholesaler, selling its powders and capsules to other companies to use in their own products.

And the companies aren't doing badly. Stanley Arcieri with Klamath Algae Products says his company is going after the energy drink market with its E3Live product, touting the algae's ability to boost mental clarity.

"We're doing OK considering the economy is tanking," he says.

Desert Lake Technologies, with 45 employees, is renovating the Klamath Cold Storage building on Spring Street in Klamath Falls for warehousing. It's the third facility the company either bought or built in the past two years, including a new drying facility in Keno and a research and development center.

Jerry Anderson, executive vice president of Simplexity Health says Simplexity is moving forward since coming under new management in 2005. It is expanding overseas in Asia and the Middle East and developed a second company that also sells algae-based products.

While spokesmen at all three companies say they are benefiting from loyal customers and solid sales, the bulk of their business comes from outside the Basin.

Longo attributes that statistic to those living near the lake having a negative impression of the abundant algae and its impact on water quality. Regardless, his personal experience and those of other users have kept the industry going and fuel its continued growth.

"The sales are still there," he said.
============================================
Why is there so much algae in the lake?
By Ty Beaver, Herald and News
Upper Klamath Lake is a naturally shallow, freshwater lake with high amounts of organic matter, according to a document from the U.S. Geological Survey.

The lake's shallow depth makes it easier for the water to warm to the best temperature for algal growth. The addition of the Basin's abundant sunlight and the lake's large resource of nutrients lead to abundant blooms.

In recent years, those blooms have become larger and more prevalent, impacting the lake's water quality.

Blooms in warmer months

The algae (Aphanizomenon flos-aquae, or AFA) blooms in the warmer months in Upper Klamath Lake, giving the lake and river water a decidedly green hue. The blooms are harvested by the companies with barges and taken to facilities to be dried and processed into a variety of products. Compounds in the algae are what provide benefits, companies say. Jerry Anderson, executive vice president of Simplexity Health, formerly known as Cell Tech, cites its antioxidant and immunity benefits. Bob Longo, an executive vice president of Desert Lake Technologies, says it has use as an anti-inflammatory. Many claim it can boost a person's energy levels and mental clarity.

Longo says that while the product was improperly termed a "miracle drug" at the height of its popularity, there is now a demand for it as a "maintenance drug," much like vitamin or herbal supplements such as echinacea.