Take Action on the 10TH ANNIVERSARY of the International Day of Action for Rivers!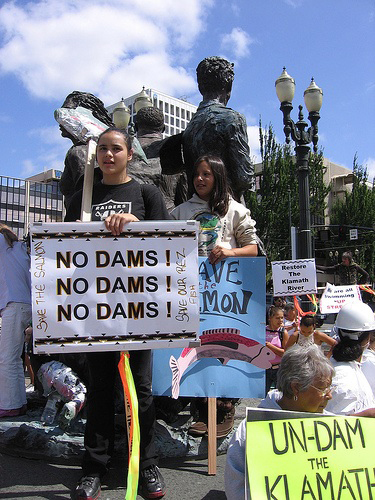 On March 14, 2007, communities around the world will celebrate the 10th Anniversary of the International Day of Action Against Dams and for Rivers, Water and Life! Ten years ago, the International Day of Action was launched at the First International Meeting of People Affected by Dams in Curitiba, Brazil. Chosen to coincide with Brazil's Day of Action Against Large Dams, March 14th is a day of protest and affirmation that has spread from those original 20 countries including Brazil, France, Argentina, the USA, Russia and Lesotho, to over 50 countries and hundreds of local groups. This year we join together, stronger than ever, to protest destructive river development, to fight for social justice and to celebrate successes over the last year.
Across the globe in 2006, nearly 100 actions mobilized in celebration of the 9th annual International Day of Action for Rivers. Tens of thousands of people from at least 34 countries united in areas where rivers and communities are impacted by destructive river-development schemes. Actions ranged from hunger strikes to sit-ins; dam-site blockades to urban protest marches; children's events to public seminars; spiritual ceremonies to boat trips down threatened rivers.
Take a stand on March 14th for healthy rivers and thriving communities! Organize a direct action, a celebration, or an educational event. Choose whatever topic and form you like, and focus on whatever works within your own context. Just get involved and get active!
"Solving the Klamath Crisis" Film Screening at La Peña
On March 14th celebrate the International Day of Action for Rivers at this free event!
International Rivers Network and the Karuk Tribe of California will screen "Solving the Klamath Crisis: Keeping Farms and Fish Alive" at Berkeley's La Peña Cultural Center at 7pm, as part of the 10th annual International Day of Action for Rivers. The documentary film explains how, for the first time in decades, Native Americans, farmers, fishers and environmentalists have found something to agree on: the restoration of the Klamath River. Come see the story behind the headlines about how these often adversarial groups came together to promote removing the hydropower dams that threaten the Klamath River and the entire state's salmon fisheries. The screening will be followed by a speakers panel.
For more information please call International Rivers Network at +1 510-848-1155. This event is free, but donations will be gratefully accepted.