Buffett Returns to the Deals Table With a Big Bet on Energy Sector
By REBECCA SMITH and KAREN RICHARDSON
Staff Reporters of THE WALL STREET JOURNAL
May 25, 2005; Page A1
After a long break from big deals, billionaire investor Warren Buffett has come back with a sizable bet in the energy sector as his Berkshire Hathaway Inc.'s MidAmerican Energy Holdings Co. agreed to buy U.S. utility PacifiCorp from Britain's Scottish Power PLC for $5.1 billion plus the assumption of $4.3 billion in debt.
The deal, which could accelerate a consolidation already under way in the electricity business, would create a registered utility holding company spanning 10 states and serving three million electric and natural-gas customers.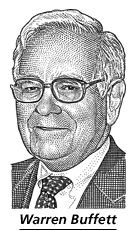 For Buffett watchers, it's a landmark. The deal ranks as Berkshire's biggest acquisition since 1998 and ends a period during which Mr. Buffett often lamented the lack of big buying opportunities. For his return, he has chosen a sector that offers stable returns and potential gains in efficiency, but also one that is languishing under its own infrastructural problems and the regulatory questions of an old utility law. Mr. Buffett also has found a home for some of his company's enormous cash hoard.
"The energy field is the single most likely area in which Berkshire -- through MidAmerican -- can find places to put significant capital" to work, Mr. Buffett said in an interview. He added that he expects Berkshire to make power-related acquisitions for another 10 to 20 years. Currently, MidAmerican owns a four-state electric utility, gas-transmission pipelines, merchant generating plants -- which sell electricity on the wholesale market to utilities and others at market rates -- and energy assets in the United Kingdom.
Berkshire's cash pile has concerned some investors, who feared that a prolonged lull in acquisitions could hurt the holding company's growth. Before the PacifiCorp deal, Berkshire had more than $40 billion in cash and cashlike assets, mostly generated by its insurance units. In the past, Mr. Buffett has used the company's cash hoard to buy whole businesses, including See's Candies and underwear maker Fruit of the Loom, or to take significant stakes in big public companies, like American Express Co. and Coca-Cola Co.
One possible hurdle for the Berkshire deal and two other recent mergers in the utility industry is the 1935 Public Utility Holding Company Act. It was originally intended to prevent conglomerates from owning utilities and to block formation of gigantic national utilities that state regulators couldn't control, but many consider it an anachronism.
The law has limited merger activity for decades, but industry observers say Mr. Buffett and others believe it will eventually be repealed by Congress. He has argued that the Depression-era law makes it nearly impossible for cash-rich companies like his to bring badly needed money to the nation's most capital-intensive industry.
One big issue in the utility industry is the lack of enough money to upgrade transmission systems and so maintain reliability. Mr. Buffett has said he would invest $10 billion to $15 billion in the industry if the utility law is swept away.
"It's ludicrous for a AAA-rated company not to be able to put money into an industry that needs it," said David Sokol, chief executive of MidAmerican, in an interview.
Two other proposed mergers announced in the past six months also would unite utilities divided by states: Exelon Corp.'s $12 billion purchase of Public Service Enterprise Group Inc., and Duke Energy Corp.'s $9.1 billion stock purchase of Cinergy Corp. Each involves the creation of sprawling enterprises operating in many states or even across the country. Such entities might once have been considered prohibited under a strict reading of the utility act.
PacifiCorp, based in Portland, Ore., is an electric utility providing service to 1.6 million customers in Oregon, Montana, California, Wyoming, Utah and Idaho. In 2004, PacifiCorp had operating income of $914 million, down about 13% from the year earlier.
It will add a steady flow of cash to Berkshire's diverse portfolio of companies, stocks and bonds. Returns in the regulated power sector average 8% to 13% annually. "Owning utilities is more like owning a bond," said Alice Schroeder, a former Berkshire securities analyst who is now writing a book with Mr. Buffett's cooperation.
Tom Story, a fund manager in Chicago at William Blair & Co., which owns Berkshire shares, said the deal was a typical "Warren investment," adding that "the downside is limited, and the upside is potentially a less-regulated environment while demand for energy presses ahead."
Utility mergers are being fueled by several forces. One is a desire to simplify an industry that has thousands of local companies even as electricity itself is bought and sold in large, multistate auctions. In addition, many experts think there are simply too many utilities in the U.S. The state of play is similar to what was seen in the banking industry before the 1999 repeal of the 1933 Glass-Steagall Act that created a separation between commercial banks and brokerage firms.
The utilities themselves say consolidation could produce big efficiency gains and improve the operating performance of transmission systems and power plants. Exelon, for example, has said it expects to save $400 million a year by combining some redundant operations if it acquires PSEG.
The Berkshire deal comes just as Congress again takes up the issue of repealing the utility act. The House of Representatives already has approved an omnibus energy bill that includes the repeal. But the Senate this week is discussing amendments to its version of the bill that could include repeal if other measures were added to beef up regulatory oversight and consumer protections.
Unless Congress acts, there's some question about whether these recent energy mergers will stand. A judge presiding over a Securities and Exchange Commission hearing issued an opinion on May 3 that found that the SEC, which polices the utility act, erred in approving the 2000 acquisition of Central & South West Corp. by American Electric Power Co., creating the nation's biggest utility.
Specifically, the judge said the merged company didn't constitute an integrated utility system operating in a "single area or region" as the law requires. Instead, he said the merged firm, operating in parts of 11 states from Michigan to Texas, operated in four distinct regions. His findings followed a similar conclusion by a federal judge that ordered the agency to take another look at the case. It isn't clear what the SEC's remedy will be or whether it will be forced to take a stricter stance on pending mergers.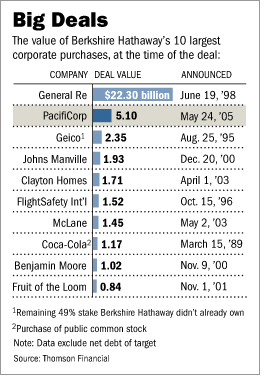 Restrictions on utility ownership and mergers were written into law following failures of giant power trusts after the 1929 stock-market collapse. At the time, a young Federal Trade Commission, in forensic investigations, proved that corrupt trusts had defrauded utility customers and shareholders through the use of stock pyramid schemes, fraudulent recordkeeping and interconnected directorships. Congress broke up the big utility trusts, prohibited their return, and created strict lines of sight into utility books and records to prevent the industry from being milked for other purposes.
Investors on both sides of the Atlantic welcomed yesterday's deal. Berkshire's Class A shares, which have also been weighed down by various regulatory investigations into its General Re reinsurance unit, climbed $2,010 to $85,500 at 4 p.m. in New York Stock Exchange composite trading. Tuesday afternoon in London, Scottish Power shares were up more than 6% to £4.70 ($8.59). Elsewhere in the utility sector, the market reaction was muted. The Dow Jones Utility Average was up only 0.25 point to 363.48.
MidAmerican said the agreement also includes the assumption of approximately $4.3 billion in net debt. MidAmerican intends to invest about $1 billion a year in capital into PacifiCorp for the next five years, Ian Russell, chief executive of Scottish Power, said in a phone interview. Since Berkshire doesn't require dividend payments from its subsidiaries, MidAmerican would have more capital at its disposal to invest in PacifiCorp's development, Mr. Buffett said. "We're a particularly well-suited owner," he said.
Scottish Power, based in Glasgow, provides electricity generation, distribution and supply services, as well as gas supply, to about five million customers in the U.K. It invested in the U.S. in 1999 when it looked like most states intended to deregulate their retail electricity markets, as California had done in 1998 and as had already been done in the U.K. But the movement hit a wall in 2002 with Enron's collapse. Scottish Power also owns coal mines and gas-storage facilities in the U.S. as well as other power assets. It has 14,000 employees globally.
For the 12 months ended March 31, the company's pretax profit before goodwill and exceptional items rose 10% to about £1 billion ($1.83 billion). Earnings per share rose 10% to 40.22 pence.
PacifiCorp, which Scottish Power bought in 1999 for $10.4 billion, accounted for about 50% of the British company's overall earnings but has recently suffered from mild weather and plant outages, Mr. Russell has said. Scottish Power took an impairment charge yesterday in its earnings of £927 million ($1.7 billion) for the sale of PacifiCorp.
Write to Rebecca Smith at rebecca.smith@wsj.com and Karen Richardson at karen.richardson@awsj.com
---
Berkshire Hathaway Inc.'s Holdings
A selection of Berkshire's subsidiaries
Subsidiaries of MidAmerican Energy Holdings
• CalEnergy Generation: Generates more than 2,029 megawatts of electric power and steam-producing facilities in the U.S. and the Philippines.

• Kern River Gas Transmission: The pipeline system brings natural gas into Utah, Nevada and California, and has a design capacity of more than 1.7 billion cubic feet per day.

• MidAmerican Energy Co.: The largest utility in Iowa, providing service to more than 698,000 electric customers and more than 680,000 natural gas customers.

• Northern Natural Gas: Provides transportation and storage services to 75 utilities in the upper Midwest.

• CE Electric U.K.: Delivers electricity to 3.6 million homes in the Northeast of England, Yorkshire and Humberside.


Nonutility Holdings
• Clayton Homes: Makes and sells mobile homes.

• Dairy Queen: Ice cream and fast-food restaurant chain founded in 1940 and purchased by Berkshire Hathaway in 1998.

• Fruit of the Loom: Manufacturers underwear and clothing. Purchased by Berkshire Hathaway in 2002.

• Johns Manville: Manufactures and markets building insulation, commercial roofing and roof insulation.

• Geico: Low-cost insurer for autos and homes.

• General Re Corp.: A holding company for global reinsurance and related risk assessment, risk transfer and risk management operations.

• McLane Co.: Distributes groceries and foodservice throughout the U.S.

• NetJets: Offers travelers fractional ownership in private jets.

• See's Candies: A chain of candy and sweets shops founded in 1921.