Wolf attacks frustrate Fort Klamath rancher
Four steer deaths confirmed by Fish and Wildlife
by Lee Juillerat, Herald and News 10/21/12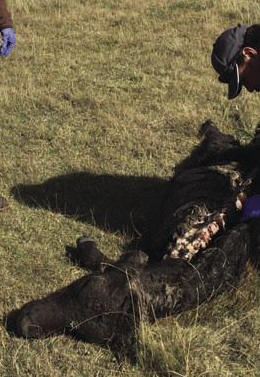 FORT KLAMATH — A Fort Klamath rancher who had four steers killed by wolves in less than three weeks is frustrated by the lack of protections for cattle, especially in the Wood River Valley.
"This valley, with so many cattle, is going to be like a smorgasbord for the wolves. They'll take the animals that put up the least resistance," worries Bill Nicholson, third-generation owner of the Nicholson Ranch, where the deaths, verified by state Fish and Game biologists as wolf kills, took place.
The most recent confirmation was received Thursday from Roblyn Brown, Oregon State Department of Fish and Wildlife acting wolf program coordinator, for a steer believed to have been killed either Sunday or Monday night. Its partially eaten carcass was found Wednesday after Butch Wampler, who oversees the ranch's cattle, spotted large numbers of circling crows and rode to the scene.
In addition, a steer that had been attacked by a wolf several days earlier died of its injuries either late Tuesday night or Wednesday morning.
"You feel helpless when you don't have a means of protecting your animals," Nicholson said, referring to the status of wolves.
Oregon wolves west of Highway 395, about two-thirds of the state, remain on the federal endangered species list while those east of 395 are no longer federally listed. The federally endangered status means wolves cannot be killed, even if they are seen attacking cattle. Only non-lethal controls, such as noise, flagging electric fences and strobe lights, are allowed.
Although most cattle have been or will be shipped out of the Wood River Valley in coming weeks, Nicholson is concerned about what might happen when they return to grazing lands next year "when you've got a meal ticket like this."
During the spring and summer, upward of 35,000 head of cattle are trucked to the Wood River Valley to graze on the nutrient-rich grasslands. Most have been trucked out of the area to winter grazing areas, predominately in far northern California.
The Nicholson Ranch, pastures about 1,300 cattle from DeTar, a ranch in Dixon, Calif., each summer. Nicholson said there are still about 300 to 400 steers on his ranch and estimates about 5,000 cows, calves and yearlings are still in the enclosed valley.
"All the heavier cattle that have been here the full season have moved on to feedlots throughout the West," he said. "Cows and calves and lighter feeder cattle have moved in for the fall feed and will remain until the snow comes, or rains in the 'bald hills' of California start their grass, whichever comes first."
Stress compounds weight loss
While the focus has been on the wolf killing, Nicholson said a potentially more serious problem stems from stress caused by the attacks, noting, "You're losing a lot of pounds with the stress. Cattlemen estimate the average steer will gain about 3 to 4 pounds a day feeding on irrigated pasture known for its nutritious blend of sedges, rushes, grasses, forbes and clover.
Because of the presence of wolves, Nicholson and Wampler said that instead of bedding down over relatively wide areas, cattle have been bunched up in groups, often standing.
"The stress on the herd is another factor, and probably more costly," Nicholson said, noting stress impacts weight gains and could reduce values for leased lands. Recommended methods of reducing or eliminating wolf attacks, including special fencing, strobe lights and more frequent patrols, also increase costs for material, time and labor, although the state pays some of those costs.
Wampler, who has seen wolves feeding on cow carcasses, discovered the three dead and one badly injured steers. On Oct. 5, concerned about possible attacks, he was in his pickup truck using his headlight and spotlight when he heard a bawling calf. Although unable to find the calf, he found a large group of cattle. "They were all standing in a big circle. They should have been bedded down."
He found the calf, which weighs 458 pounds, the next morning. "You could see the tooth marks." Biologists shaved its hair, which exposed deep wounds in its legs.
Wampler, who had seen three wolves in a neighbor's field in mid-September, said he was riding to his home Oct. 2 when he found a dead 800-pound steer.
"I saw this wolf take off toward the fence," then spotted a second wolf. The next day he saw three wolves feeding on the carcass.
On Oct. 4 he found a second dead steer, one weighing 600 pounds. "His stomach was ripped open ... his heart, lungs and liver, they were all gone," Wampler said.
Fish and Wildlife hazing predators
He and Nicholson called the ODFW's Klamath District office, which immediately sent out biologists who confirmed both were wolf kills. It was later learned a trail camera photographed five wolves near the area where the attacks happened.
"I give the Fish and Wildlife people credit. They were right here," Nicholson said, noting biologists from the state and federal U.S. Fish and Wildlife Service have spent nights in fields in efforts to distract wolves.
"It's a super-high priority for us," said Thomas Collom, a wildlife biologist in the Klamath office. "The sooner we can get to them (killed or injured cattle) the better chance we have to make a determination. We treat it like a crime scene."
John Stephenson, wolf coordinator for the U.S. Fish and Wildlife Service, said he believes the attacks were by the Rogue Pack. A verification cannot be made because no wolves in the pack have radio monitoring collars. "There is a chance it is not (the Rogue Pack), but we believe it was," he said.
Nicholson was told that wolves repeatedly bite cattle, which causes them to hemorrhage, go into shock and then die. "They can be still alive but the wolf eats them until they die," he said. "They (wolves) go right inside to the chest cavity and the first thing they eat are the heart and the lungs."
"It's death by a thousand bites," Collom said of deaths caused by wolves, which typically relentlessly bite soft tissue areas.
Wolves have been seen in the Wood River Valley since the appearance of OR-7 in 2011. He was known to have returned to Southern Oregon in 2014, mated with a female wolf and have since had several offspring in what is known as the Rogue Pack.
"I personally don't think those are the first wolf kills in the valley," Nicholson said, noting a neighboring rancher said the recent killings follow patterns seen in a steer death that was not reported to state game officials last year.
"What we've learned is what to look for," Wampler said of examining dead cattle. "Now we're looking at the animals to see if there are any wounds .... You can see them if you know what you're looking for."
Wampler expects more attacks on livestock. "They will come back, that's just a given."
In accordance with Title 17 U.S.C. section 107, any copyrighted material herein is distributed without profit or payment to those who have expressed a prior interest in receiving this information for non-profit research and educational purposes only. For more information go to: http://www.law.cornell.edu/uscode/17/107.shtml