http://www.heraldandnews.com/members/forum/guest_commentary/mallams-use-of-water-didn-t-short-anyone/article_3acf5ef4-0832-5892-a0bf-8b469a130435.html

Guest commentary

Mallams' use of water didn't short anyone; Project irrigators got the water they were told they would get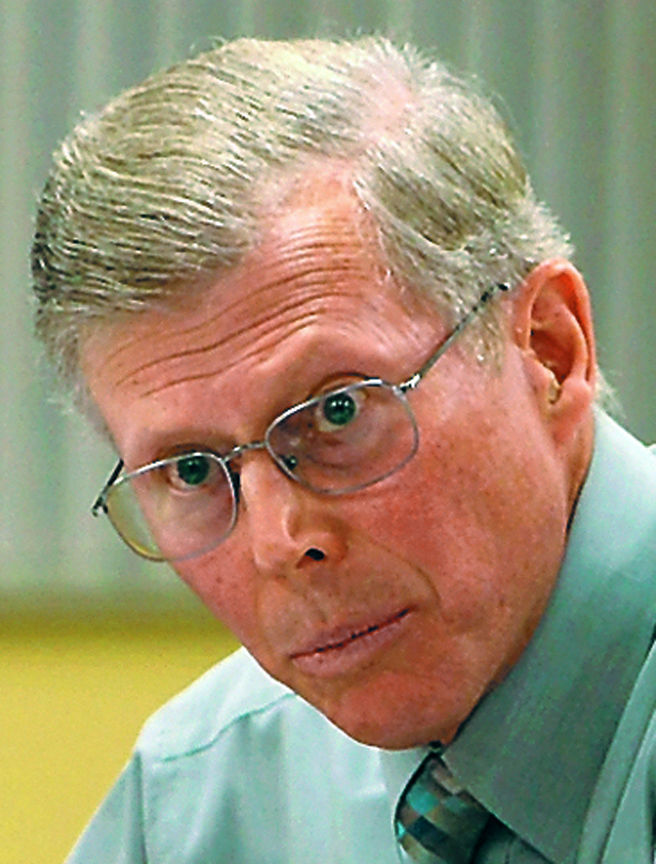 by Reg LeQuieu, Herald and News 10/28/15 The Author Reg LeQuieu is a long-time Klamath County resident and retired Klamath County Assessor.

"Less legal water for others." Totally false.

At times people share their ignorance before researching the facts. Such has been the case regarding Tom Mallams' actions regarding well water use on his property.

Even the Herald and News "View" editorial Sept. 27 began with the headline, "More illegal water for Tom, less legal water for others."

This political piece appeared before either Mallams or Sen. Doug Whitsett were able to present the facts regarding continuing legal issues when orders were improperly prepared and then properly appealed. Mallams and Whitsett have now addressed the first half of that headline; I'm writing this to help people think in a true way about the assertion that less legal water was thereby available for others.

I'm reminded of the old saying, "In theory, theory and reality are the same; in reality, theory and reality are different." In this case they are the polar opposites.

Well far from Sycan River

Mallams' well is over a half mile from the Sycan River and over two miles from the Sprague River (you might want to read that again). The assertion is that pumping from his 304 feet deep well with an artesian flow of 800 gallons per minute with the head of the well 80 feet (by actual survey) above the rivers reduces the surface flow of those rivers resulting in less water for the Klamath Reclamation Project below Upper Klamath Lake.

This is a small irrigation well when typical irrigation wells produce 1,500 to 3,000 gallon per minute. Further, there is no way the surface water of the rivers is producing artesian flow 80 feet above the rivers, or conversely, when the well retains its same artesian pressure when closed, losing no water from its aquifer, that it is also very unlikely it is contributing water to the rivers.

At least two further observations need to be made.

First, the Reclamation Project irrigators received all their promised water. No less "legal" water resulted. Downstream flows received all their allocated water. No less "legal" water there either.

In fact, there is no shortage whatsoever that can be traced to Tom Mallams' well or any number of other wells in the fringes of the Sprague River Valley. There was no less legal water for others!

Second, there is no evidence that using his well somehow reduces the flow of the rivers. The overreach of the bureaucrats at the Oregon Water Resources Department (OWRD) is based solely on computer modeling and resulting theory — and their desire to condition "the people" to ever greater government control and thereby justify their existence and expand their kingdom.

Am I being a little harsh? Maybe; a little. I do know bureaucrats, I know there is some truth to what I just said, and I know when I gore one of their sacred oxen they are going to scream bloody murder. We'll see if their screaming includes any definitive science, much less proof.

For instance, government control was greatly expanded compared to 2014. Last year, 14 wells received shut off orders. Mallams' well was not one of them.

This year the "taking" was expanded to 39 wells under similar orders including a city well and a Running Y well.

I remember the city conducted actual well tests and challenged the assumptions on which OWRD based their modeling. I believe the city's expert could not replicate any of OWRD's numbers, including any analysis of OWRD's monitoring wells.

The word "fraudulent" was used to characterize OWRD's order to the city by the city's expert. Were any of the 40,000 users of city water ever shorted? Bureaucrats are loathe to raise the ire of that many voters. And the city has the resources to challenge an order based on faulty research and unwarranted assumptions.

Do you need more evidence that Mallams' appeal (as well as that of four other irrigators), and their collective continued use didn't result in less legal water for others?

The "B" land irrigators were told in the spring that they would receive no water this year for their 60,000 acres. Then after the first cutting of alfalfa in June they were told they would receive three inches per acre of water delivery, about one irrigation; then later in June they were told they would receive another nine inches per acre for a total delivery of one acre-foot.

Then in early August all restrictions on delivery to "B" lands was lifted. There are two reasons for this: 1) it had become apparent that the "A" water users could not and would not use their call for 3.5 acre feet per acre, and 2) another 50,000 acre feet of water was "found."

In fact, there is water sufficient enough that water was released to the 22,700 acres of idled land on Oct. 1 so they could pre-irrigate their parched land in preparation for next year, and another 7,000 acre feet of water has been delivered to the wildlife refuges — with more to come.

I don't share this information as any kind of criticism of the Bureau of Reclamation; Lord knows its job is extraordinarily difficult. The point I am making is that more irrigation water was available and delivered to irrigators below Upper Klamath Lake than originally allocated — a lot more. Let's sharpen the point even more: there was no "less legal water for others" as a result of Mallams' appeal of the OWRD orders and his continued irrigation of his crops — that is, continued pursuit of financial life.

Administrative rule issue

The bottom line is that OWRD was tasked by the settlement agreements to make this connection by creating an administrative rule that ties surface and ground water together. This new rule even states that if the settlement agreements are not legislated and implemented, this specific administrative rule goes away. One question is why are they creating this rule before Congress has ratified the settlement agreements? There is no congressional mandate.

While Klamath County Assessor, I operated on the basis that statutes govern us, administrative rules serve us. Did I ever violate a statute? No. Did I ever bend an administrative rule? Yes. And I was exonerated both times. And if Mallams wins his appeal he will be exonerated and the results will be for the better good of those with wells that have not been demonstrated to affect the surface flows of distant rivers.

What is really sad is that he has been adjudged guilty before all the evidence has been submitted and a court of proper jurisdiction has ruled. Fair-minded people will reject any recall petition until all the facts are in, courts have ruled, and appeals exhausted.

====================================================
In accordance with Title 17 U.S.C. section 107, any copyrighted material herein is distributed without profit or payment to those who have expressed a prior interest in receiving this information for non-profit research and educational purposes only. For more information go to: http://www.law.cornell.edu/uscode/17/107.shtml