FACT CHECK regarding Flushing Flows taken from Klamath Irrigators' water storage for salmon
by Rex Cozzalio 5/29/21
KBC NOTE
:
Karuk Spokesman S Craig Tucker responded to a recent question regarding a Bureau of Reclamation's 2020 News Release on the Klamath Basin Crisis Facebook Page regarding Flushing Flows:
Tucker:
"In this figure, you can see the observation of C. shasta spores at a variety of sampling sites in 2020. at all sites the spore concentration was reduced after a flushing flow which resulted a low rate of infection in sample salmon for the rest of the season. So yeah, flushing flows save a lot of salmon from dying from C. shasta."
FACT CHECK by Rex Cozzalio responding to Tucker's comment:
Go HERE for Word Document (if photo's don't appear):
"We are here once again, and again, it must be nice to get paid to promote an unaccountable agenda regardless of cost or consequence to others or the holistic environment. Under such a circumstance, it becomes very easy to post oneself as an authority, while throwing out selective data points and narrow interpretations hoping something will stick. Sticking to those who have LIVED the environmental Project IMPROVEMENTS at the 'focal point' of 'dams impacts'… not so much.
Interesting how the chart posted did NOT include two others in the same report (below), a significant number of other report charts showing contradictory 'conclusions', and not insignificant empirical data indicating an inconsistent relationship between 'spore counts' and fish mortality. Regarding these charts alone, the 2020 one previously presented was for a 'to date' comparison to the counts from this year. This year has been one of the lowest winter flows and has had NO pulse! According to the 'modeled' theories of benefitting dams destruction signatories, those spore numbers should have been orders of magnitude greater than last year, NOT essentially the same, and according to them, without a 'pulse' this year, the numbers should have COMPOUNDED this year during the same period, NOT decreased as it did, showing essentially the same pattern as last year WITH the 'pulse'.
What about the other omitted image?
Take a look at blue dot spore count from this year to date… then look at the pink backdrop color it essentially follows. Guess what the pink is? It is the SPORE COUNT graph from last year WITH the 'pulse', showing an almost identical pattern throughout the period of last year, but WITHOUT A PULSE. As to the actual possible spore count levels that according to 'theory' this 'should' have been? Look at the 2015 shaded area BEHIND those more darkly colored graphs… yes, the one going 'off the charts'.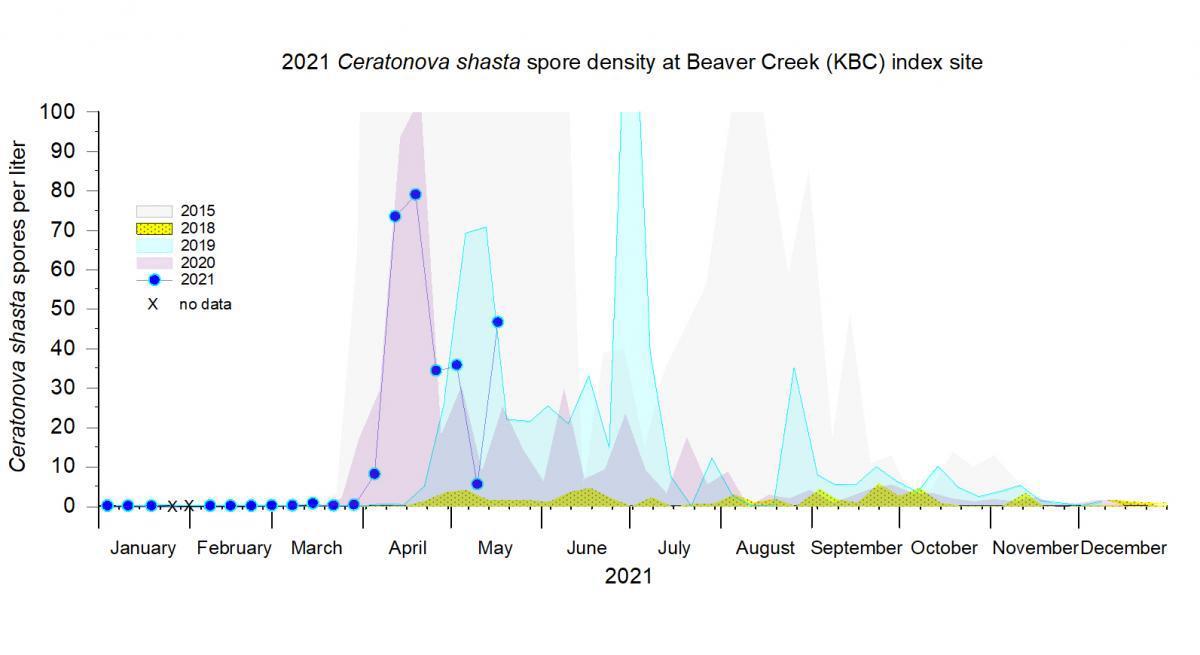 Could the future numbers increase this year depending upon temperatures and environmental conditions… of course, JUST as it has done the MAJORITY of times within a day or two AFTER previous 'pulses', indicating the polychaete are not 'flushed', but the released actinospores simply diluted DURING the unnatural wasting itself and NOT reduced in actual numbers. Would it reduce infections by diverting the Columbia River down the Klamath to dilute the spore counts? Possibly… but historically those artificial 'pulses' have NEVER been known to naturally occur at this time of year. In the newest 'adaptively managed' rhetoric I have seen to 'justify' dams and Project destruction, the 'pulses' are 'necessary' as the clay sediment Iron Gate is blocking would 'scrub' the polychaete' and therefore AFTER destruction all will be Jim Dandy. Thing is, under their PRIOR failed 'modeled' theory for pulses and destruction, Iron Gate was a problem because it did NOT flush the downstream sediment, making the area immediately downstream rife with the macrophyte beds 'ideal' habitat for polychaete. Unsurprisingly, BOTH 'adaptive' agenda theories are wrong. I WITNESSED the river wide mats of mud, moss and algae at our location before Iron Gate, as well as the dramatic post dam downstream shift to coldwater fisheries conducive instream conditions and spawning habitat. Those experiences are now supported by the empirical studies like the Katama research statistically comparing salmon returns on dammed and undammed west coast rivers PROVED not only that ocean conditions are the primary factors, it also showed that the dammed rivers had an equal or HIGHER return of salmon, and the studies proving polychaete densities and infection rates in the upper Klamath basin ABOVE the dams are HIGHER than those below.
Oh, but let's not get into facts that contradict the rewilding and extirpation agenda. And certainly don't discuss the cost/benefit ratio of those unnatural 'pulses' using confiscated STORED winter flood waters taken from upper basin agriculture owners without compensation. Facts like, in one 'pulse' alone, enough water was wasted that would supply the needs of 7,000,000 people for a year or approximately 202,000 irrigated acres, with EVERY single pulse occurring at far higher levels than EVER reported to occur at that same time of year.
Guess for those who get paid the same regardless of consequence, ignoring these things is just all in a days work.
Rex Cozzalio, Hornbrook, California 5/29/21
==================== ============== =========================================
====================================================
In accordance with Title 17 U.S.C. section 107, any copyrighted material herein is distributed without profit or payment to those who have expressed a prior interest in receiving this information for non-profit research and educational purposes only. For more information go to: http://www.law.cornell.edu/uscode/17/107.shtml