http://www.heraldandnews.com/news/residents-dedicate-in-god-we-trust-sign/article_b1f5ab4e-1ce4-5fa8-906c-98a5139baacc.html?utm_medium=social&utm_source=email&utm_campaign=user-share

Residents dedicate 'In God We Trust' sign

by Stephen Floyd, Herald and News 4/27/16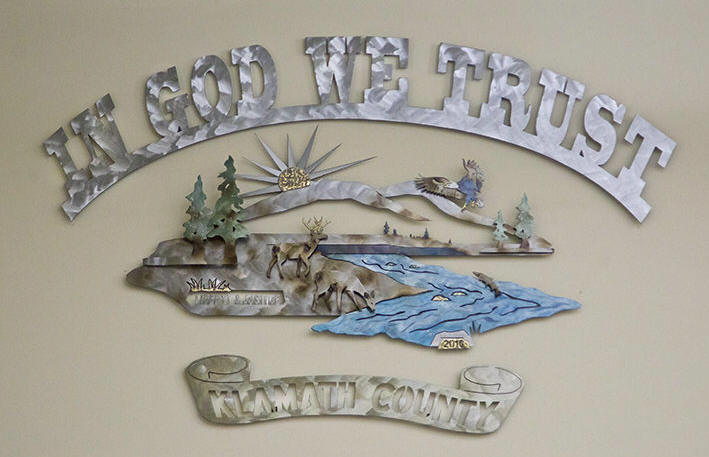 H&N photo by Kevin Hume. A plaque with the words "In God We Trust", "Klamath County", and "Liberty and Justice" is dedicated on a wall inside the Klamath County Commissioners meeting room on Tuesday. Chiloquin artist James Emard made the plaque
Community members dedicated an "In God We Trust" plaque Tuesday at the Klamath County commissioners' weekly meeting.
Displayed on the wall opposite the meeting room doors, the metal plaque is meant to honor the country's national motto as well as the area's natural resources.
"It is our desire that all who see our plaque in the future will be reminded that trusting in God means we are to love and respect each other," said Carol Warren, who helped lead the group of residents who raised funds for the plaque.
Warren said hundreds of residents donated to the project, which was completed by Chiloquin metalworker James Emard. The plaque was installed last week and remains on display in the meeting room.
Commissioners began discussing the installation of an "In God We Trust" sign toward the end of 2014 but waited to take action as county counsel researched its legal obligations in the matter.
Majority, minority
Opponents said the sign would exclude those who do not believe in the Judeo-Christian God and said it would violate policies regarding the separation of church and state. Supporters argued the phrase is not faith-specific and represents acknowledgment of a higher power. They also noted it is the country's national motto and a philosophy supported by a majority of county residents.
During a public hearing Feb. 9, more than 300 residents spoke in favor of the sign, both in-person and in writing. Less than a dozen spoke against it, though many more have expressed displeasure through social media.
During Tuesday's meeting, resident Reg LeQuieu said too much of the attention regarding such issues is paid to the vocal minority.
"When the left talks about offending a minority they miss the fact that, by not offending them, we are offending a majority," said LeQuieu. "We are offended oftentimes when a small minority gets their way against a majority," he continued.
LeQuieu thanked Commissioner Tom Mallams for bringing the issue before the county and thanked the board of commissioners for approving the plaque.
Mallams said he believes the efforts of citizens both to create the plaque and show support for it says a lot about what the statement means.
Commissioner Jim Bellet said he appreciated Emard's work and believes the plaque will last for a long time.
====================================================
In accordance with Title 17 U.S.C. section 107, any copyrighted material herein is distributed without profit or payment to those who have expressed a prior interest in receiving this information for non-profit research and educational purposes only. For more information go to: http://www.law.cornell.edu/uscode/17/107.shtml