California Congressman Wally Herger
Blazing Fires Show Importance of Effective Forest Management, Congressman Wally Herger 7/16/12. "The Forest Service is spending over a billion dollars each year fighting fires. In an era of trillion dollar federal deficits, scarce taxpayer dollars could be better used if we addressed the unhealthy conditions in our national forests to help prevent catastrophic fires in the first place."
House passes legislation to repeal ObamaCare, California U.S. Congressman Wally Herger 7/11/12.
Here is our Health and Food page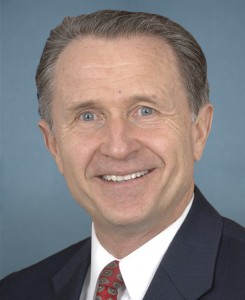 House votes to strengthen second amendment rights, US Congressman Wally Herger 11/18/11
Monument legislation discussed at hearing, testimony by U.S. Congressman Wally Herger 11/15/11. "Obama Administration intends to use this authority to lock up more than thirteen million acres of federal land from multiple-use access. In a time of high unemployment, this would lock even more American jobs away."
9/15/11 - U.S. Congressman Wally Herger testimony: Monument Legislation Discussed at Hearing: "In the Northern California Congressional District I represent, the federal government owns a significant amount of the land, with it reaching as high as 75% in one county. Local communities collect no taxes from these lands, money that could go to schools and roads. The federal government is also unable to manage it properly. Now the Obama Administration is talking about increasing the number of presidentially-designated national monuments...."
Eliminating Duplicate and Burdensome Regulation, Ag e-update by Calif. U.S. Congressman Wally Herger 4/6/11.
California U.S. Congressman Wally Herger Newsletter 3/8/11
2/25/11 - Following are links to video of the entire House Floor debate about Congressman McClintock's amendment #296 to the Continuing Resolution, the Klamath Dam Removal Study funding cut. Date: February 18, 2011 from 4:44 PM to 5:05 PM. The final vote on Amendment 296 was 215 in favor 210 opposing the amendment. Calif. Congressman Wally Herger and Oregon Congressman Greg Walden supported the amendment:
Part 1 = http://mediacenter.tveyes.com/downloadgateway.aspx?UserID=38662&MDID=629554&MDSeed=6638&Type=Media
Part 2 = http://mediacenter.tveyes.com/downloadgateway.aspx?UserID=38662&MDID=629555&MDSeed=118&Type=Media
Part 3 = http://mediacenter.tveyes.com/downloadgateway.aspx?UserID=38662&MDID=629564&MDSeed=1565&Type=Media
No Monument rally with Congressman Herger, Yreka 2/25/11
U.S Congressman Wally Herger: Department of Interior's "Christmas Present" to the American Public: Lockup More Federal Land, posted to KBC 1/7/11. "...as the Obama Administration continues to claim that it has no plans to designate national monuments in response to a leaked memo describing potential monument sites (including two within our Northern California Congressional District), this latest action further undermines their credibility. Instead, these statements simply reinforce the Administration's "lock it up" agenda with respect to multiple-use of federal lands."
PRESS RELEASE: CA Congressman Wally Herger, Preventing Tax Hikes on Northern California Families and Small Businesses12/16/10