https://www.heraldandnews.com/news/local_news/astronomical-sheriff-wants-statewide-state-of-emergency-over-illegal-marijuana-grows/article_1088a6c0-a582-5d68-8f85-c7b8c1d6769f.html
Sheriff wants statewide state of emergency over illegal marijuana grows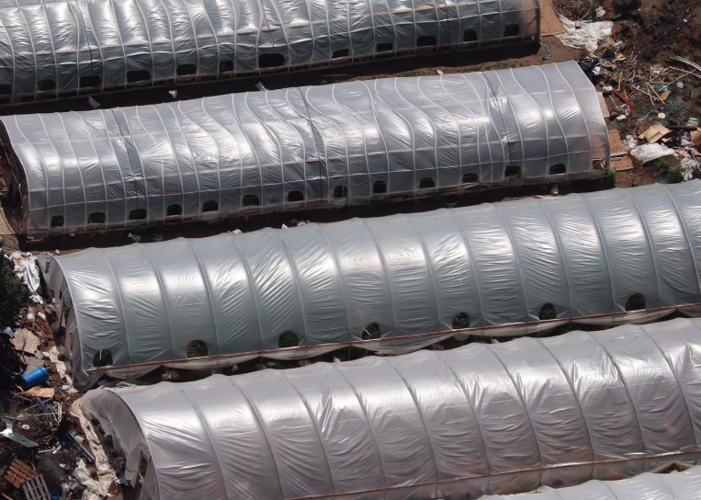 < Marijuana grow houses shown in a social media video posted by the Siskiyou County Sheriffs Office
Siskiyou County Sheriff Jeremiah LaRue wants the state of California to declare a state of emergency related to the proliferation of illegal marijuana farms and grow houses in the region.
The northern California county and several of its southern Oregon counterparts have declared local state of emergencies in response to the thousands of illegal grows spread across the expansive region.
LaRue has taken to a social media with Facebook video showing the impacts of the illegal cannabis grows. "The problem is the quantity of grows that we're faced with is astronomical," LaRue said in the post.
Some of the grows have links to drug cartels and organized crime syndicates also involved in other illegal drugs such as fentanyl and methamphetamine, according to local police.
LaRue said the illicit growers steal and use significant amount of water pointing to images of full swimming linked to nursery tents full of cannabis plants.
The county estimates there could be as many as 2,000 grow sites and 5,000 greenhouses just in California's northernmost county. Those grows can use as much as 3 million gallons of water per day in region dealing with severe drought conditions.
The farms are often staffed with undocumented and trafficked workers. LaRue said they are frequently harsh conditions at the illegal grows.
"It's common for us to find dead animals on these grow sites," LaRue said adding that dogs on the sites appear to be neglected and abused.
Marijuana is legal in California and Oregon but high taxes and regulatory fees especially in the Golden State can make legalized weed as much a 40% more expensive.
Those cost dynamics and continued pot prohibitions in other U.S. states and the federal level helps drive demand for unregulated and illegal marijuana.
Just one bust in late April resulted in the seizure of more than 17,500 illegal cannabis plants, 5,610 pounds of processed marijuana worth $8 million, according to the Siskiyou County Sheriff's Office.
The California county said it has destroyed more than 100,000 illegal cannabis plants so far this year — up from 39,000 plants for the same period last year. That is a 156% increase.
The Sheriff's Office said so far this year it has also seized $51 million worth of processed pot from illegal cultivations so far this year up from $42 million a year ago.
LaRue wants Sacramento to declare a statewide emergency and updated and new laws that penalize illegal farms for labor exploitation, animal abuse and environmental impacts.
A number of the marijuana grows will approach farmers and land owners and will lease the land for between $5,000 and $10,000. Property owners can face environmental fines, code violations and other legal problems for allowing illicit grows on their land.
====================================================
In accordance with Title 17 U.S.C. section 107, any copyrighted material herein is distributed without profit or payment to those who have expressed a prior interest in receiving this information for non-profit research and educational purposes only. For more information go to: http://www.law.cornell.edu/uscode/17/107.shtml