https://www.heraldandnews.com/news/local_news/klamath-county-illegal-marijuana-grows-tied-to-organized-crime/article_554756f5-99f5-52c1-be30-78407fb704f9.html
Klamath County illegal marijuana grows tied to organized crime
by Joe Siess, Herald and News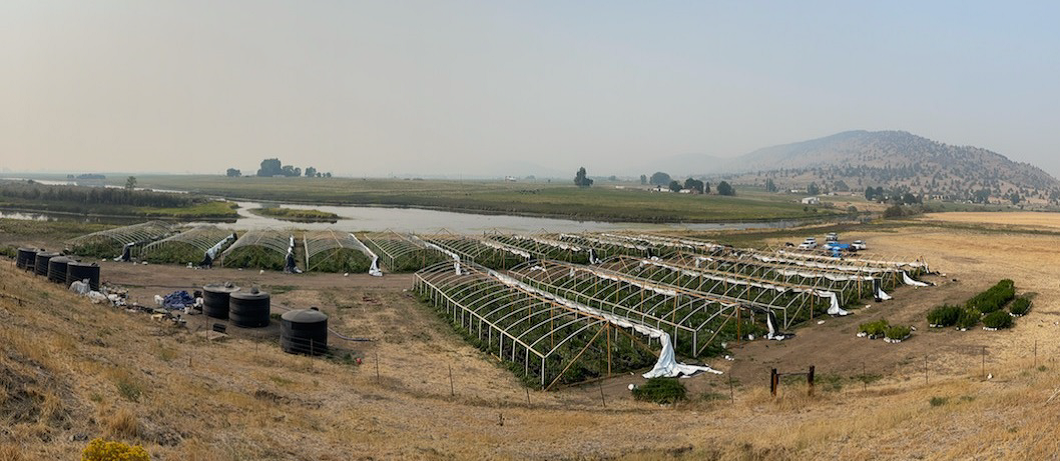 < Law enforcement raided several large, allegedly illegal marijana growing operations outside Beatty and Olene this week and destroyed more than 22,000 plants
In recent years, Oregon has become fertile ground for illegal marijuana grow sites, and law enforcement has now confirmed some in Klamath County have ties to international criminal organizations.
In most local cases, law enforcement has found illegal growers from out of state lease local properties, cultivate and produce marijuana, and then distribute it to other parts of the country — turning millions of dollars in profit. In the process, growers use tremendous amounts of water, acquired either by illegally taking it from area rivers and wells, or buying it from locals hoping to make a buck.
Grow sites can then be quickly abandoned — after the yield is harvested by migrant laborers — and landowners are left cleaning up the mess. The cycle continues each year with renewed vigor, and until recently there wasn't much law enforcement could do about it. But earlier this week, a local consortium of law enforcement drug officials raided three grow sites. Still, the size and remoteness of much of Klamath County means there are not enough resources to address the full weight of the issue.
It often starts when someone comes to town and asks local landowners to lease land to cultivate legal hemp crops. Some landowners take the deal and allow the strangers to set up shop. The problem, however, is that the growers aren't planning to grow hemp at all: They are planning to grow marijuana illegally and offload much of the risk onto the local property owner.
Klamath County Sheriff Chris Kaber said getting the message out to landowners is part of his strategy to combat illegal grows.
"I believe many of the landowners know exactly what they are doing when they do it," Kaber said. "I also believe some of them are duped into believing it's going to be a legal crop, and others are ignorant of the fact that organized crime comes in to grow illegal marijuana to take out of state and sell for a profit."
Kaber said that the illegal grow sites he and other law enforcement agencies raided on Tuesday and Wednesday were all leased from local landowners.
"They don't risk their own land to do this, they risk someone else's land to do it, and pay a fee for it," he said. "I want to make it clear that when you are approached by someone who wants to lease your property to grow hemp, I'd say they are 99.9% lying to you, the risk is yours."
A lack of law enforcement
Fred Klotz, a Sprague River resident, said the problem of illegal marijuana grows has increased significantly in recent years. Part of the problem, he said, is the lack of law enforcement presence to deter illegal growers from setting up shop in rarely-visited parts of the county
"We get absolutely no patrol deputies in our area," Klotz said. "And we believe that that has a lot to do with the proliferation of these large grows."
Klotz said several grow sites have sprouted up around his property and growers aren't trying to hide their plans.
"This year they are blatant," Klotz said. "They don't even cover the stuff ... They don't care, and part of that is the lack of presence of law enforcement."
Growers are sucking water out of wells and taking it from rivers, Klotz said.
"We are watching water trucks go up and down the road," Klotz said. "They go to a property that has a well and they transport the water to a grow site."
Sheriff Kaber said growers usually take water from rivers or wells in the middle of the night. But sometimes, locals will sell them water, "another way they basically bilk our citizens," he said.
"And it's horrific. Each marijuana plant will take at least a gallon of water per day," Kaber said. "Farmers can't grow their crops this year but these people are growing theirs by stealing water."
Kaber said at the moment, the Sheriff's Office is operating with minimum staff, but is trying to fill numerous open positions and get more funded by county commissioners. But even after all those positions are filled, he said the agency will still have limited capabilities in the most rural corners of Klamath County.
One of his goals is to have enough deputies and resources to go back to 24-hour coverage and to be more proactive when it comes to dealing with illegal grows
Another reason the Sheriff's Office is unable to do regular patrols in places as diverse as Sprague River or Gilchrist — 86 miles away from Klamath Falls — is that Klamath County is simply too big to patrol, and most of the 90 daily calls for service that deputies received are from the suburban Klamath Falls area.
"The people in the outlying areas of our county are underserved," Kaber said. "Not because we are intentionally not going there, it's because most of the work is closer to town."
In the end, Kaber believes people in the outlying areas of the county deserve better, but there is only so much he and other local law enforcement agencies can do.
Kaber said he and his office are willing to take the fight to the illegal growers to the best of their ability.
"I don't believe it will be as fast or as effective as anybody would like, including myself, but to do nothing would be wrong. We are doing what we can. We hope to do more," he said.
Law enforcement ramps up raids
Law enforcement has confirmed that many of the illegal growers in Klamath County and elsewhere are associated with international criminal organizations, and locally, raids on grow sites have started to ramp up.
On Tuesday, two large grow sites near Beatty were raided by the Basin Interagency Narcotics Enforcement Team (BINET), and another one near Olene was raided by the Sheriff's Office on Wednesday.
The two sites raided on Tuesday by BINET yielded 22,000 plants, and the site raided Wednesday yielded 11,000 plants.
In both cases, the grow sites were purported to be hemp, but upon investigation it turned out they were all unlicensed, and illegal marijuana grow operations.
No arrests were made, but at the sites in Beatty, six farm workers were detained for questioning.
The six detained farm workers were almost exclusively "transient agricultural workers," Kaber said, and none of them provided any information on their employer out of fear of retribution.
"Oftentimes the reason the people we talk to who have been tending the crops won't talk is because they have been threatened with retribution… either on them or their families" Kaber said. "I know for certain that that's why we hardly get any information from the people at the lowest level of production. They will not talk to you."
Kaber and his team were part of the BINET operation on Tuesday and were able to provide their colleagues with manpower and an armored vehicle that was used to enter one of the sites after intel indicated the possibility of armed resistance.
BINET, which operates out of the Klamath Falls Police Department, consists of two detectives from KFPD and two detectives from the Oregon State Police.
"We are partnering with the Klamath County Sheriff's Office, and other local authorities, to maximize the positive impact on our community," said Jack Daniel, a lieutenant at KFPD.
While the property on which growers produce illegal marijuana crops are owned by local residents, Daniel said the overall operation — from production to distribution — is run by people who reside out of the state and out of the country. He characterized those groups as "international criminal organizations."
While no arrests have yet been made during this week's busts, criminal charges have been referred to the Klamath County District Attorney's Office for review.
Eve Costello, Klamath County District Attorney, said the illegal marijuana grow situation in the county is clearly concerning.
Klamath County, she said, is becoming an attractive place for illegal growers to set up shop without having to worry about obtaining a license or following the law..
"They are harvesting early and shipping it out of state," Costello said. "These individuals are just here to make money and they don't care. People who are willing to take those kinds of risks don't care."
'We can't keep them at bay'
Back in the late 1990s, when recreational marijuana was illegal in Oregon, Kaber said it was a good day when law enforcement was able to bust a grow consisting of 100 plants.
"We would only get 1,000-plant grows in Klamath County every once in a while," Kaber said. "Now, we've got 33,000 plants in four grow sites just this week."
When medical marijuana was legalized in Oregon in 1998 — that's when things started to take a turn, Kaber said.
"When medical marijuana came to the state, that is when we in law enforcement knew that the pandora's box was opened," said Kaber. Over the next decades, growers have perfected their methods for maximizing profits.
"If they lease 10 plots and they have growers and pickers they can move around, and one or two of them (grow sites) get busted, they are still going to make millions of dollars on the others, because we are not capable of getting them all," Kaber said. "It's like a flood of speeders coming down Highway 97, the state police might be able to pick off two or three of them, but they're not going to get the rest of them."
Kaber estimated that the two properties raided on Tuesday, which consisted of three grow sites, could have generated around $23 million.
Kaber said that Klamath County, with its limited law enforcement capabilities, is prime real estate for illegal growers because there simply aren't enough officers or deputies to do any significant damage. And growers know that.
"So we are being inundated, we are being flooded with organized criminal marijuana growers, because they've recognized that Klamath County, and Oregon in general, has become a soft spot," Kaber said. "We can't keep them at bay."
Neighboring Jackson and Josephine counties have been dealing with the same issue for many years, Kaber said, but it is now creeping into Klamath County at an unprecedented rate.
"It is a huge production area in Oregon for other states," Kaber said. "We are trying to not become like Jackson and Josephine county. We are doing our best to hold it at bay. We haven't been able to do a very good job of that in the last several years."
Ceding that ground will only put law enforcement, and local residents, in a more difficult position going forward.
"There's a level of lawlessness creeping into our county and there has been for some time because those sorts of people look for where they can operate more freely, and rural Oregon counties are becoming that place," Kaber added. "Nobody likes it."
====================================================
In accordance with Title 17 U.S.C. section 107, any copyrighted material herein is distributed without profit or payment to those who have expressed a prior interest in receiving this information for non-profit research and educational purposes only. For more information go to: http://www.law.cornell.edu/uscode/17/107.shtml