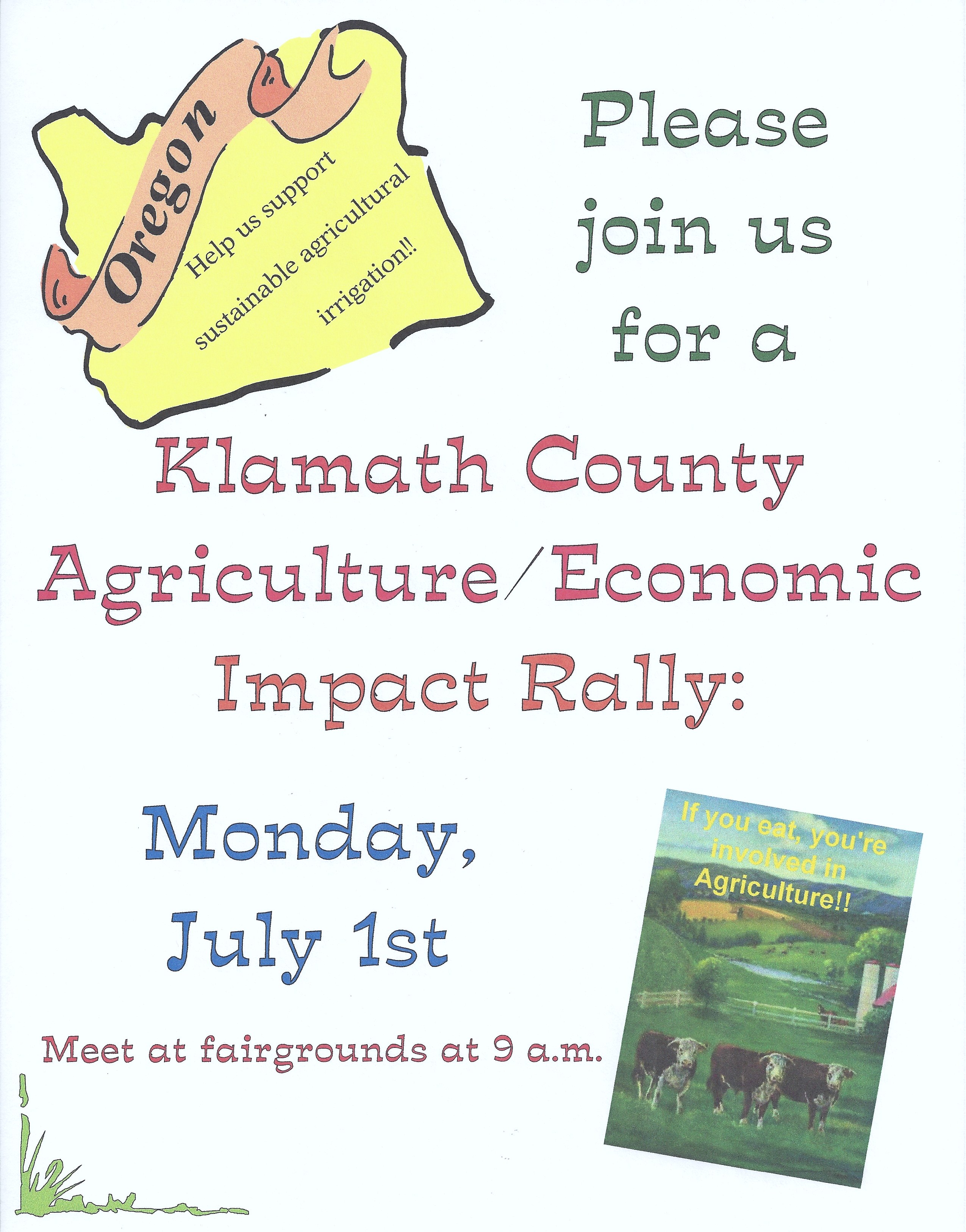 6/24/13
Who We Are:
We are family ranchers, farmers, supporters of agriculture, and people who love and treasure the pastoral landscapes of Klamath County, Oregon. (Join us!)
Our Vision:
Our vision is to establish fair distribution of water rights among Upper Klamath stakeholders and the Klamath Tribes in order to sustain the region's agriculture-based economy, foster understanding in our diverse communities, and preserve the rural character of Klamath County, Oregon.
What's at Stake:
Every day, more ranchers in the Upper Klamath watershed are losing their access to irrigation water. Without the ability to irrigate, ranchers cannot grow a hay crop to feed their cattle through the winter, let alone have adequate forage for summer months. No water and no hay means these ranches are no longer viable for agriculture, and will be forced out of business.
What does this mean for you?
v Disappearance of scenic rural landscapes
v Loss of prime wildlife habitat
v Elimination of over 4,000 jobs in Klamath County
v Loss of agriculture-related businesses
v Loss of a major source of Oregon-grown meat and fiber
v Disappearance of family ranches, many with 150-year histories
Background
For the past 150 years, the crystal waters of Klamath County have been used by the ranchers in the Upper Klamath Basin to irrigate their high desert hay meadows. In 1975, the United States Government, acting through the Department of Indian Affairs, brought a claim for these waters on behalf of the National Forest Service, the Klamath Tribes, and the Bureau of Reclamation. This claim was intended to supersede ranchers' state adjudicated water rights dating back to 1864.
In March 2013, after nearly 40 years of ongoing litigation, the adjudicator, Oregon Water Resources Department (OWRD) issued its Findings of Fact and Final Order of Determination (FOD). This FOD has placed all agricultural use of irrigation water in the Upper Klamath Basin in jeopardy by establishing required stream flows that preclude the use of irrigation water in all but the wettest years. Without irrigation, over 100,000 acres of ranch land in the Upper Basin would become unviable for agriculture. Not only would this cost Klamath County over 4,000 jobs, it would wipe out a community of historic family ranches and erase a rural landscape treasured by all who visit Klamath County's scenic back roads.
Join Us
Allowing productive irrigated lands to dry up and rural communities to wither is not in anyone's best interest. The life-giving waters of the Upper Basin are a fundamental resource that needs to be shared by all stakeholders. We want to find a fair and equitable way to distribute this water that will give all parties some of what they need, though no one will receive all of what they want. Ranchers need to continue to ranch, and in-stream flows for the Klamath Tribes need to be adequate for historic uses.
Help us find a solution to this challenge by joining with us!
These are the Economic impact projections for Klamath County Oregon, as prepared by county Assessor Leonard Hill in April 2013 if the present water re-adjudication is allowed to continue:

1. Affected Acres-115,000
2. Livestock sales- $144,635,000.00
3. Labor- full and part-time jobs lost- 4355 (not including No. California counties that use Klamath County as an economic hub)
4. Land values-115,000 acres value loss- @ $2250/acre=
$258,000,000.00
5. Total area Impact in dollars- $516,000,000.00.

These economic losses would seriously affect Klamath County's ability to function in the future.

====================================================
In accordance with Title 17 U.S.C. section 107, any copyrighted material herein is distributed without profit or payment to those who have expressed a prior interest in receiving this information for non-profit research and educational purposes only. For more information go to: http://www.law.cornell.edu/uscode/17/107.shtml