Liz Writes Life; I am Felice Pace's #1
Aug 15, 2012
Greenies & grant $
,
Liz Writes Life
Published in Siskiyou Daily News in Yreka, CA
Guess what? I am Felice Pace's #1! According to the hand-signal he showed me last Saturday morning. I have it on video. You see, Felice sent out an announcement that he was holding a "Volunteer Grazing Monitor Training" sponsored by his "Project to Reform Grazing Practices on the Klamath National Forest."
Some of us who learned of the meeting decided to show up and see what Felice had up his sleeve. He set the time for 8 a.m. at Wildwoods Crossing in Etna. There were 10 of us who arrived from the cattle rancher's side and there may have been 2 or 3 women to hear what Felice had to say; and a man who told us he had drank too much the night before at the bar. He was still pretty woozy.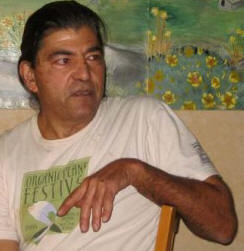 photo: Felice Pace, founder and director of Klamath Forest Alliance
We all gathered in the back room at Wildwoods, then Felice told us he had a bum knee and had canceled the meeting. Hum. Mark Baird asked him what gave him the authority to teach about grazing practices? Felice responded that Mark would just have to "stay curious."
Carolyn Pimentel and her daughter, Jaclyn, also attended. Carolyn said she was there as a "grazer" and followed-up with more questions to Felice, who did not provide answers. She asked him why he didn't bring up these additional monitoring concerns at the USFS grazing stakeholders committee meetings that were held this year. Felice participated in those meetings.
Felice made an interesting statement, when he said he should be invited to speak at one of our meetings. I think he meant a Scott Valley Protect Our Water meeting. Although President Tom Pease and two vice-presidents were there, none of us took Felice up on his offer. We believe no one in our group would attend a meeting where Felice could spew his continued bias.
Oh, I was video-recording Felice when Carolyn was asking questions. He said he didn't like being filmed and then gave me the #1 hand-signal – you know — the bird.
I believe Felice was holding a meeting as part of the criteria for obtaining a grant, which is how he is continuing to make his living. According to the Klamath Forest Alliance information on-line, Felice's total revenue in 2008 was $166,050. It was a little odd that his total expenses were $200,370. In even more mystery, KFA was involved with "Boy and Girl Scout" activities and his environmental quality and protection mission includes "beautification."
Also as part Felice's "reform" on grazing practices, he is hoping to hire several young people to stand at the trailheads and ask hikers if they like cattle or not, using a questionnaire. Not too difficult to figure out what their answers will be.
For those who would like to read the entire announcement by Felice of his grazing monitoring training, the document will be handed out at the next Scott Valley POW meeting or go to Pie N Politics.com. On the right-hand side, in red, is a long list of categories. Click on "Greenies & Grants" or just put Felice's name in the search. It is worth checking out his connection with the North Coast Regional Water Quality Control Board.
POW meeting
We will hold a Scott Valley Protect Our Water meeting on Thursday, Aug. 30 at the Catholic Parish Hall in Fort Jones. It is located on the corner of Main St. and Carlock. Time is 7 p.m. for Pie N Politics, which is sharing of desserts. We will begin the meeting at 7:15 p.m.
BILLS
Assembly and Senate bills are up for approval as the State Legislature is back in session. There are several that we should be calling for a "No" vote. One is AB 2179 that will give CA. Dept. of Fish and Game huge authority to circumvent our local sheriff, D.A. and Superior Court by acting as its own judge and jury with fines up to $10,000. We believe this is a direct threat to irrigators, who DFG says must get a "permit" to use their water. Honestly, the water is part of the owner's property and can be proven on the land deed, so additional permits are not constitutional and create another "tax."
Fair flowers
I won several blue ribbons with the dill and parsley at the fair; and in the flower classes. There were even a few classes, where mine wasn't the only entry! I was surprised the purple zinnia won a Best of Show and with that big pink rosette ribbon came a $25 check. Wow. I need to make a list of what is blooming right now, so I can remember what to enter next year.
Liz Bowen writes biographies, free lances, and writes news for radio. Check out her blogs: Pie N Politics.com and Liz Bowen.com