https://www.heraldandnews.com/news/local_news/hay-comes-to-the-basin-in-a-time-of-need/article_775f6751-2304-5c81-aacb-4fe6c136cd58.html#tncms-source=article-nav-next

Hay comes to the Klamath basin in a time of need
by Joe Siess, Herald and News 8/28/21.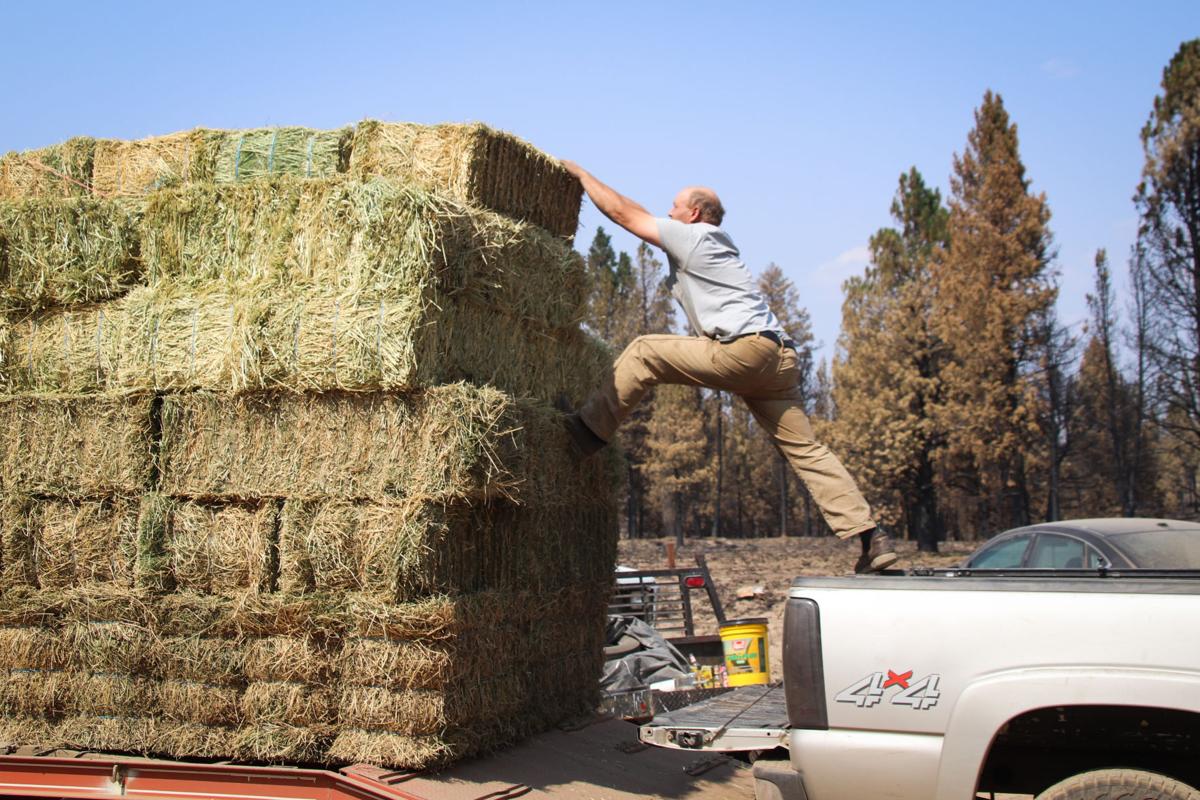 It was midmorning on a Saturday, but locals were working as hard as ever to load up bales of hay at Duarte Sales Auction Yard on the northwest corner of Ivory Pine Road and Highway 140.
The auction yard belongs to Jeff Wessel, and he opened it up for hay shipments that mostly came from western Oregon. The shipments were organized by Timber Unity, a political organization of mostly farmers, loggers and supporters.
Geof Miller, a rancher whose land nearly abuts the auction yard, loaded the trailer of Janice Roberts-Griffin and Scott Griffin with hay. The Griffins will use some of the hay themselves, and distribute the rest for other victims of the Bootleg Fire who lost grazing land, barns and more.
Roberts-Griffin and Griffin live on the forest, and despite losing nearly everything they owned to the Bootleg Fire, they have been running hay up to their neighbors for weeks.
As drought in the Klamath Basin and more generally in the U.S. West continues, hay is becoming harder to find and more expensive, forcing many to sell off horses and livestock that survived the wildfire.
Hay run up the mountain
Wessel keeps the hay shipments left at his place under lock and key, to keep it safe and make sure it is going to those in the most need.
"There's still got to be 200-plus bales there," Wessel said earlier this week of the hay at his auction yard. "I don't know if people know about it or not, so people would have to call and make an appointment to get the hay. It's basically for people that lost their homes and their barns."
The hay Miller loaded for Roberts-Griffin and Griffin was bound for fire victims. The couple drove the hay and unloaded it by hand, so people could pick some up to tide their animals over.
Kevin Coggins, a neighbor who lives nearby, stopped by Roberts-Griffin's and Griffin's property in his pickup truck to load some hay for his four horses. After taking nearly a ton of hay — about $300 worth — Coggins said the haul was enough to feed his horses for a week and a half.
Returning the favor
Timber Unity Association Board Secretary, Angelita Sanchez, said the organization has raised upwards of $50 thousand in donations to help out people in the Basin struggling during the hay shortage.
The Cascade Relief Team has sent volunteers to help as well, Sanchez said.
"Many hands make light work," she said. "Everybody is just jumping on board."
Despite the outpouring of support from around the state, Timber Unity can only do so much.
"We are kind of just flying by the seat of our pants trying to help where we can," Sanchez said.
Sanchez, who was born in Klamath Falls but currently lives in Sweet Home, said last year, farmers in the Basin ran hay up north to help feed animals displaced by wildfires.
The support from Basin farmers in a time of need gave her the idea that one day Timber Unity should return the favor.
And that is precisely what happened.
"They (Basin hay farmers) gave out of their excess to the wildfire victims and that probably hurt them this year," she said. "And now they are suffering, and now we had to return the favor."
Sanchez said farmers in the Klamath Basin didn't help out last year expecting to to be repaid, but this year has been devastating to them.
"If we can secure more resources and more volunteers, we will try to make another run, but for now we feel we've reached our capacity, unless we can get more people together to do it one more time," Sanchez added.
Fred Simon, a farmer in Malin, owns about 30 head of cattle near the California state line.
A volunteer for Timber Unity, Simon said he has been receiving hay shipments at his property to be distributed to people in the Basin. Timber Unity so far has brought a couple shipments totaling about 500 tons of hay, he said.
Simon then helped facilitate local deliveries, providing ranchers who were burned out of their allotments with about 500 pounds of hay per cow, Simon said. That's enough for about a month's worth of feeding, he said. But while every bit helps, Simon said the Basin is going to need a lot more.
"There have been people feeding cattle (hay) since July," Simon said. "Usually they don't feed until October, November. It's a help, but it is not enough to make them whole."
Simon said both a lack of irrigation water dried out many pastures, creating a local shortage, which was compounded by the Bootleg Fire burning people out in the mountains.
Production costs and lack of water cause price, demand increase
Steve Gorden started putting up hay in 1989 when he was 18 years old.
Today, he produces and brokers hay on about 1,000 acres of land in Klamath County. He also raises his own cattle.
This year, Gorden had to raise his prices from the year prior — and he is still making less net profit than 2020. Prices going up and supply going down has people nervous, he said.
"Everybody just needs to stay calm," said Gorden. "At the end of the day it will all work out."
Gorden said the Basin has seen droughts like the current one, and he believes it is just a matter of time before things get better.
"It's not doomsday," Gorden said. "It's going to get wet again, it's going to rain again."
Gorden said he hates to see the price of hay going up so much, but his costs are rising exponentially as well.
"My fertilizer has gone up 35% in one year," Gorden said. "Fertilizer is made from petroleum, and fuel prices are going up… the input costs are ridiculous."
Gorden said back when he was getting his start in the early 1990s, a new hay baler would run under $30,000. Today, that price tag is roughly $80,000.
Hay prices are increasing to keep up with the rise in equipment prices and production costs, Gorden said.
Irrigated land in the Basin has also increased in price, which in turn, bumps up hay prices even more.
Gorden said the price of irrigated land is about three and a half times more expensive than it was in the early '90s, further increasing the overhead costs of production.
"The water has brought the problem to the surface, which has created a shortage in a market, allowing the prices to go up," Gorden said. "But truly, prices should have been going up to keep up with the prices of production. (Local ranchers) are seeing it and feeling it because it is all happening at once, because the drought is causing it to happen all at once."
Tim Howard, a local farmer who sells feeder hay, said big bales of grain hay currently run between $175 to $210 per ton. Feeder alfalfa will run between $205 and $240 per ton, Howard said.
Howard puts up his own hay and feeds it to his animals. He said its definitely harder to come by, if you have to order in.
"Not having irrigation water is what caused it," Howard said.
Howard said he'd likely work with Timber Unity to donate some hay, but he needs enough to share.
"I have to make sure I have enough for me and enough for my customers, and then I'd probably get involved," he said.
====================================================
In accordance with Title 17 U.S.C. section 107, any copyrighted material herein is distributed without profit or payment to those who have expressed a prior interest in receiving this information for non-profit research and educational purposes only. For more information go to: http://www.law.cornell.edu/uscode/17/107.shtml