https://www.heraldandnews.com/news/local_news/secretary-of-interior-bernhardt-tours-midland-field-of-crosses/article_1f1abd85-86c6-53ca-8e2e-0fc6e8616782.html
Secretary of Interior Bernhardt tours Midland field of crosses
by HOLLY DILLEMUTH, Herald and News 7/10/2020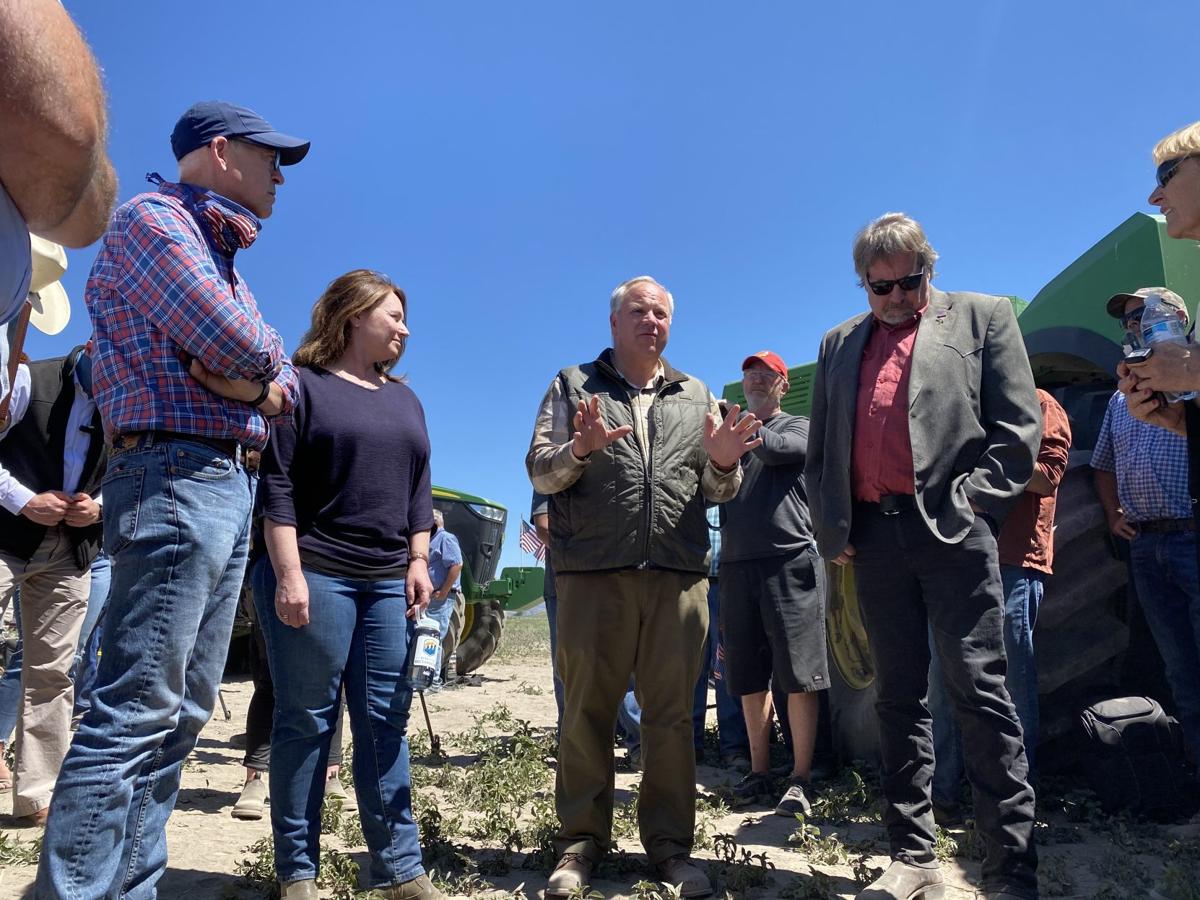 MIDLAND — Backdropped by a dusty field filled with white crosses representing lost farms, Secretary of Interior David Bernhardt chatted casually with Klamath Basin farmers and ranchers and their families Thursday afternoon, vowing to chart a path towards a solution to water conflicts in the Klamath Basin.
Bernhardt was joined by Bureau of Reclamation Commissioner Brenda Burman, Congressmen Greg Walden (R-OR) and Doug LaMalfa (R-California), and other top water officials in the field that hosted the "Shut Down Fed Up" rally held on May 29. The rally that drew more than 4,000 people, following a tractor and vehicle convoy that spanned more than 29 miles between Merrill and Klamath Falls, also drew national attention across the miles from Bernhardt and other top federal officials.
With Bernhardt and officials nearby, one of the rally co-organizers Bob Gasser held up a photograph of the rally for all to see.
He pointed out that the photograph was signed by President Donald Trump on Air Force One.
"The Secretary of the Interior is the man who can make the biggest difference in this Basin," Gasser said, noting he had no idea that the secretary would come to the Basin so soon following the rally.
"Mr. Secretary, thank you for coming to our small part of the country," Gasser added, turning to face Bernhardt. "We may be small, but we've got a heart for this nation."
Gasser said Bernhardt is responsible for returning the Project to receive 140,000 acre feet of irrigation water.
"He saved this community … even though there are still a lot of farmers out there who have no water. There's a lot of hurt still going on, but if he wouldn't have done what he did, it really would've been horrific because a lot of investments were made planning on the (140,000 acre feet) … millions of dollars would've been lost and a lot of growers would've been lost."
The visit by the top officials was the first by both a Reclamation Commissioner and Secretary of Interior at the same time, and the first by a sitting Interior secretary since 2002.
Following the tractor rally and convoy in late May, Bernhardt and Walden rode together on Air Force One where Walden showed Bernhardt photographs of the rally and convoy. They were joined briefly on the flight by President Donald Trump, who signed a photograph of the rally for Walden.
Bernhardt learned firsthand from Walden of the scenario faced by Klamath Project farmers and ranchers and the high possibility that they would receive 80,000 acre feet of water or less, compared with the 140,000 acre feet they were promised on April 1.
Walden and LaMalfa urged Bernhardt to consider making a visit to the Basin.
"Sometimes it's important for us to evaluate the situation for ourselves and then try and drive change and that's what we're going to try and do," Bernhardt told attendees of the invitation-only event.
"It's very different when you're able to see things," Bernhardt later told reporters. "In my old life, I was a lawyer and I was much more comfortable if I had an issue if I had walked the ground and understood it. It gives you a different perspective when you come here. It's pretty easy to sit in a desk in D.C. and say what you think … This has been very helpful."
Bernhardt earlier in the day visited with the Klamath Tribes and U.S. Fish and Wildlife and expressed that they were great conversations. He talked of plans to return to Washington, D.C., with new information to share amongst the Department of Interior.
"We need to find a way within the law to make this situation work," Burman said.
Bernhardt said there are some specific things that the department hasn't looked at for a number of years that can be reassessed. He was wary of sharing specifics until that occurs.
"I don't announce what we're doing until I believe that it's implementable because people for years have come out to places and given them pie in the sky and 10 years later, it's exactly in the same place," Bernhardt said. "I do not do that... We have to come out, understand the situation, go back, think about it, come back, and say, 'Here's what we can do, and here's what we can't do, and some of the 'can't do,' people won't like, but this president is very clear that, 'Look, you figure it out.' … You make a decision. You don't put people in a mode of waiting year after year for nothing. We don't do that."
When asked about the Coalition of the Willing, a group of multiple stakeholders that have been meeting with and separately from Interior's Alan Mikkelsen, Bernhardt wouldn't talk specifics but said the coalition came up in conversations held on Thursday.
When asked if the coalition will play a role in finding a long-term for water in the Basin, he said, "It all plays a role."
Farmers share appreciation
Scott Seus, a Tulelake farmer and co-organizer of the rally, shared praise for Bernhardt, Burman, Walden, and LaMalfa for their visit.
"It's a shame you have to be here in the Basin," Seus said to Bernhardt, "but we're proud to have you here today.
"We're not asking for a handout here. We are asking for help to continue this generation of farming."
Seus also explained the events that immediately followed the May 29 "Shut down and fed up" rally — another rally to protest the closure of churches due to COVID-19 on Mon May 30 and a rumors of individuals representing Antifa infiltrating the town, which turned out to be a Black Lives Matter protest, on May 31, on May 31.
"We got drowned out by a Black Lives Matter protest," Seus said.
Seus said the rally and convoy was a community effort to not be forgotten, adding that the presence of Bernhardt and federal officials in Klamath Falls shows President Trump's administration hasn't forgotten irrigators.
"The fact that you're here today says, 'We're not going to be forgotten, not by this administration,'" Seus said.
Walden and LaMalfa praised Bernhardt and Burman for their visit.
"We're going to be okay for 2020 and look forward to how we can make things even better in 2021," LaMalfa told attendees on Thursday.
With only months more in office before his retirement, Walden shared his continued commitment to work towards a long-term water solution in the Basin.
"It's time for a reset and I believe that more firmly now than ever," Walden told individuals who gathered at the field.
"Let's face it — the plans and policies that have been in place, they haven't worked for the suckers. They haven't worked for the salmon, and they sure as heck aren't working for farmers. There's a place here where we have to find common ground but we have to start with science and data that makes sense. We have to study what's worked and not worked and come up with a new plan.
"The president believes in results and that's what we have to do," Walden added.
A long-term
fix in the works
Gasser said he wasn't expecting the visit by the top officials so soon following the rally.
"All I was hoping for was some more water as the Summer went on," Gasser said.
"It's exciting because they're taking this serious. The commissioner and secretary here is just unheard of ... He didn't say what the fix is but they've been working on things for quite a while. And it's not going to be against any particular group because we did not ask for that. We want to do better for the fish and for the farmers.
"That's the exciting part," Gasser added. "It shouldn't be us versus them right now. It should be, 'Let's all get together and make this thing work better.'"
====================================================
In accordance with Title 17 U.S.C. section 107, any copyrighted material herein is distributed without profit or payment to those who have expressed a prior interest in receiving this information for non-profit research and educational purposes only. For more information go to: http://www.law.cornell.edu/uscode/17/107.shtml